3 Daily Fantasy Baseball Stacks for Friday 4/30/21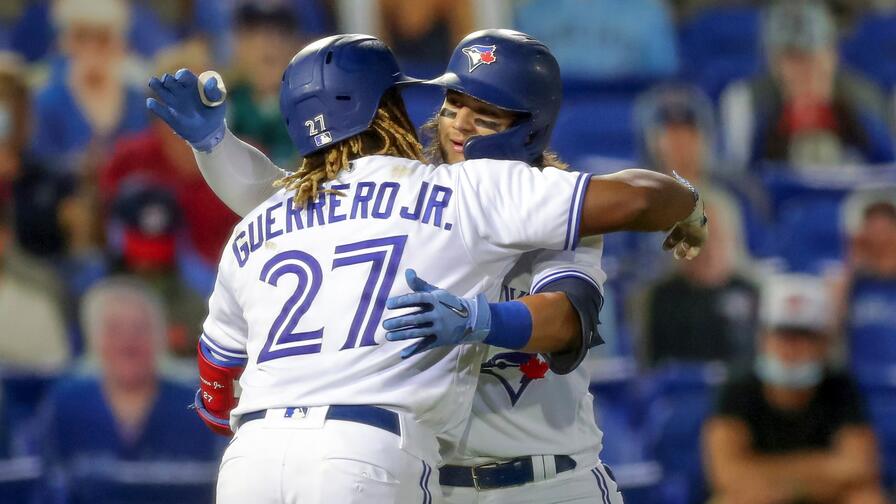 Stacks are the backbone of cashing daily fantasy baseball lineups. Correlation drives upside, creating the potential to place high or even win GPPs when your selected stacks explode offensively.
This column will do the digging and the dirty work to determine which stacks are worth rostering each day. Scoring upside will fuel the stacks that get the nod. Sometimes that will lead to chalky selections, but contrarian stacks will get their fair share of love too.
In addition to utilizing the touted daily stacks in handbuilt lineups, numberFire premium members can throw these highlighted stacks into an optimized lineup using our DFS Sharpstack tool. Our hitting heat map tool is also available to premium members looking for more stacking options. It provides valuable info such as implied total, park factors, and stats for identifying the quality of the opposing pitcher.
Let's take a look at the top stacks on today's main slate.
Toronto Blue Jays
The Toronto Blue Jays hold the slate's highest implied total (5.54) for their date with lefty Drew Smyly. I will throw a word of caution out there: Smyly has more strikeout ability than guys we usually target for stacks. But the dude gives up a lot of delectable contact, surrendering a 44.3% hard-hit rate and 44.6% fly-ball rate over 155 1/3 innings since the start of 2019.
The Jays' right-handed bats should be our primary focus, and their lineup could start with four straight righties -- George Springer ($3,800), Bo Bichette ($3,700), Vladimir Guerrero Jr. ($4,000) and Randal Grichuk ($3,200). Of the four, our projections like Springer and Bichette the best, but on a night with Yu Darvish, Gerrit Cole and Shane Bieber on the slate, Grichuk is very appealing at his salary. He mashed southpaws to the tune of a .399 wOBA and 42.0% hard-hit rate in 2020.
Marcus Semien ($3,300) and Teoscar Hernandez ($2,500), Alejandro Kirk ($2,000) and Santiago Espinal ($2,000) will all hit from the right side if they're in the lineup. Going with Grichuk and a couple of these guys allows you to get exposure to Toronto without breaking the bank.
New York Yankees
It feels like the New York Yankees have been a top stack all week, and we can go back to them tonight in a Bronx matchup with lefty Tarik Skubal.
After putting up some gaudy minor-league numbers, Skubal had a promising cup of coffee last season, but it's not going well in 2020. He's got a 5.72 SIERA and 13.6% walk rate through 19 innings. Over his brief career, right-handed hitters have posted a .388 wOBA and 61.9% fly-ball rate against him. That's not ideal going into Yankee Stadium, and the Pinstripes have a meaty 5.11 implied total.
You know the drill with the Yankees -- Aaron Judge ($3,800) and Giancarlo Stanton ($3,700) offer huge upside, particularly with the platoon advantage. If you can make room for their salaries, go for it. But something that will likely make New York a chalky stack tonight (other than the good matchup) is how nicely the rest of their bats can fit in alongside one of the slate's big three stud pitchers.
DJ LeMahieu ($3,000), Gleyber Torres ($2,400), Clint Frazier ($2,100), Gary Sanchez ($2,300), Gio Urshela ($2,800) and Aaron Hicks ($2,600) will all have the platoon advantage and come in at modest salaries. With so many options, the Yankees give you gobs of flexibility with your lineups.
Cincinnati Reds
Jake Arrieta's nice start to the year has been a fun story, but his 2.57 ERA is not all that legit. His SIERA is 4.44, and his 8.5% swinging-strike rate hints at some negative regression for his 22.2% strikeout rate.
The Cincinnati Reds can do some damage against Arrieta at Great American Ball Park, and they have a 4.75 implied total. I'll hone in on their lefties since Arrieta permitted a .387 wOBA and 41.4% hard-hit rate in the split back in 2019, his last season with more than 45 innings pitched.
Jesse Winker ($3,700), Joey Votto ($2,700), Mike Moustakas ($3,000) and Tyler Naquin ($2,900) all stand out as guys who hit from the left side and should be in good spots in the lineup. Winker will likely lead off and is mauling righties this season, recording a massive .549 wOBA in the split. Naquin (.386 wOBA and 55.0% hard-hit rate) and Moustakas (.376 wOBA) are also thriving this season with the platoon advantage.
While Nick Castellanos ($3,500) and Eugenio Suarez ($2,900) are right-handed, they're worth a long look whenever we're stacking Cincy.