What Saquon Barkley's Offensive Line Means for His 2021 Fantasy Football Season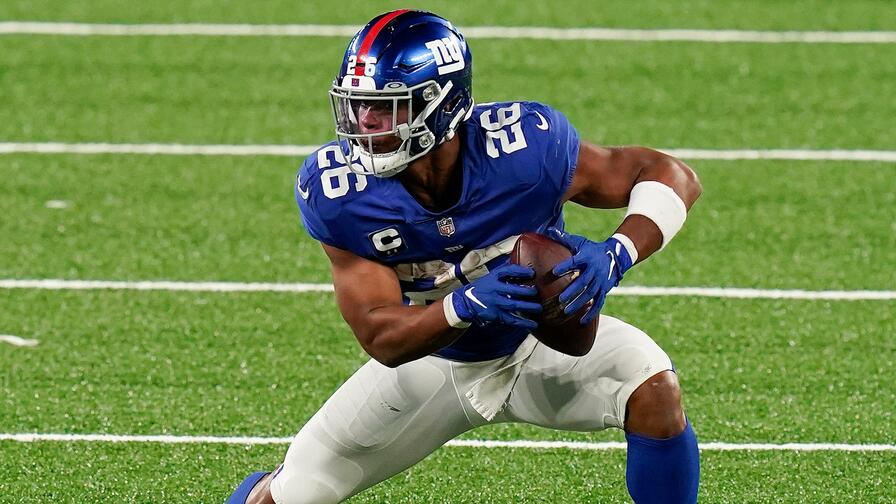 If you've been playing fantasy football for more than a few seconds, you've probably heard the adage that you can't win your league in the first round but that you sure can lose it.
And there's some validity to that.
Whiffing on your first-round pick is quite difficult to overcome, and that's why it's important to scrutinize the top picks and make sure we're aware of any possible red flags attached to their names.
One glaring red flag for New York Giants running back Saquon Barkley is his offensive line, which ProFootballFocus ranks 32nd overall entering the 2021 season.
Another is that, entering August, he's still progressing back from his ACL injury sustained last season.
I'm not going to speculate on his health because, well, how could I?
What I can do, though, is look at the expected impact of his offensive line.
Can we really trust Barkley at his average draft position (the 1.09 overall and the RB8 in NFC drafts since the start of July) despite his offensive line?
Offensive Line Success and Running Back Fantasy Football Production
Defining offensive line success isn't exactly the easiest thing to do, and while there are a few ways to do it, I'm sure none of them are absolutely flawless.
But I went ahead and pulled run blocking grades and rankings from PFF since 2006, which seems like a good start.
I then attached each team's run blocking rank to every running back in the NFL in that timeframe, narrowed it down to top-12 running back seasons (in half-PPR formats), and checked out the results.
How often were RB1 seasons accrued behind top-eight lines? What about middling lines? And the worst of the worst? Here are the results broken up into quartiles of run blocking rank.
PFF Run Block
Rankings
Top-12 Fantasy
RB Seasons (Since 2006)
Frequency
1st to 8th
63
35.0%
9th to 16th
44
24.4%
17th to 24th
31
17.2%
25th to 32nd
42
23.3%

Okay, so yes, the top-eight quartile featured the most RB1 seasons since 2006, and 59.4% of RB1 seasons came from backs with above-average lines.
However, 23.3% of top-12 running back seasons came behind offensive lines that ranked in the bottom eight. If this was distributed evenly, that'd be 25.0%. That's...really not that far off the pace.
And in case you're curious, 26 of these 180 running backs (the top 12 over 15 seasons) played on teams with bottom-five run blocking grades. That's where Barkley's Giants should be assumed to rank at the worst-case scenario.
Of these same 180 backs, 33 played behind top-five-graded run blocking units.
Yes, 33 is more than 26, but it's fairly evident that poor run blocking alone isn't enough to derail an RB1 season.
Overall Offensive Success and Running Back Fantasy Football Production
Overall offensive success -- for these purposes defined simply as points scored -- is actually a bit more telling than offensive line ranks. Here's the same quartile experiment but with points scored rankings.
Team Offense
Points For Ranking
Top-12 Fantasy
RB Seasons (Since 2006)
Frequency
1st to 8th
62
34.4%
9th to 16th
53
29.4%
17th to 24th
35
19.4%
25th to 32nd
30
16.7%

Ah, yes.
By this method, 64.9% of RB1 seasons over the past 15 years have been tied to teams in the top 16 in points scored that season.
Just 16.7% of these backs came from teams in the bottom eight in points. That -- more than the offensive line rankings -- could have us worried about Barkley.
After all, numberFire's initial projections pit the Giants' offense a tinge better than bottom-eight -- but only barely.
This -- plus, of course, Barkley's injury recovery -- should be the bigger concerns than simply the offensive line.
Saquon Barkley's Fantasy Football Projection for 2021
numberFire's projections rank Barkley as the RB6 in half-PPR formats an. The algorithm projects Barkley for 274 carries, 1,263 yards, 10.5 rushing touchdowns, 63 receptions, 472 receiving yards, and 2.8 receiving touchdowns.
My projections landed Barkley as the RB4 (in a tight cluster with three others from RB4 to RB7). From that standpoint, Barkley is actually a bit undervalued at his current draft position of RB8.
He has to return to health, and the Giants' offense has to avoid the bottom of the barrel to help increase his odds of a high-end output.
But no matter where you land on Barkley entering fantasy draft season, his offensive line shouldn't really be the deciding factor.