Betting Guide for UFC San Antonio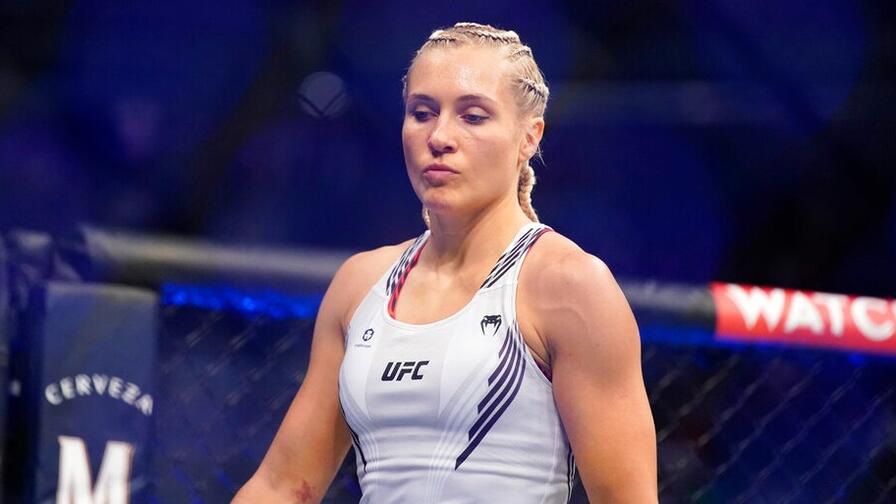 One of the most interesting top-five bantamweight matchups needed a crowd, so Marlon "Chito" Vera and Cory Sandhagen were bumped to this week's card.
UFC San Antonio: Vera vs. Sandhagen will take place Saturday from the AT&T Center in San Antonio, Texas this weekend. Which MMA bets stand out on FanDuel Sportsbook?
Two-Leg Parlay
YTD: 4-5 (-2.13 units)
This lay has technically paid four of nine tries, but it was another partial payment last week. Ludovit Klein drew Jai Herbert, which meant the parlay became a straight bet -- albeit successful -- on Joanne Wood.
I'm itching to cash one in full, so this one near The Alamo is -- hopefully -- one to remember.
Tucker Lutz and Steven Peterson to Both Win
(+115; 1.3 Units)

It's a tough week for favorites. Several underdogs, many of whom we'll discuss, have a great path to win. Above their contemporaries, I still see value in Tucker Lutz (-260) and Steven Peterson (-180) to win their respective featherweight bouts.
Lutz drops in competition level here. Daniel "The Pit" Pineda is an exciting guy with all 27 pro wins by a finish, but he's got 14 losses for a reason. Pineda's power-centric approach hasn't led to much reliable offense. He lands just 3.35 significant strikes per minute with 48% accuracy. His striking (45%) and takedown (42%) defense are the far more concerning elements.
Ultimately, Lutz defended all three submission attempts in his last bout, and Pineda's 0.40% knockdown rate is small -- especially considering Lutz hasn't been knocked down himself. Behind a +1.08 striking success rate (SSR), the far more technical Canadian should win out if he survives the early flurry.
I'm not sure what to expect from Peterson's opponent, Lucas Alexander. The concerns about his regional competition weren't exactly alleviated in a submission loss to Joanderson Brito that didn't last three minutes.
Peterson's a versatile threat with solid striking defense (53%), and he thwarts wresting attempts at a decent clip (64%). After going all 15 minutes with veteran Julian Erosa (6-6 UFC), it's hard to see a regional newcomer getting "Ocho" out of there.
Plus, all three of Alexander's regional losses came via submission, and Peterson has put forth six attempts in seven career bouts, so he's active and willing to exploit that issue.
Straight Bets
Trevin Giles to Win (-113; 1.13 Units)

Being bigger and stronger isn't everything in UFC, but it sure can help.
Trevin Giles (-113) and Preston Parsons are in a near pick 'em for their bout at 170 pounds, but I think the market is overvaluing Parsons' last performance, which came on short notice against lightweight Evan Elder. Parsons bullied Elder for 4 takedowns and 5 submission attempts, but Elder fights 15 pounds lighter normally.

Giles is the exact opposite. He used to fight at middleweight (185 pounds), creating a 30-pound gap from what Elder normally weighs on fight day to what Giles' old weight was. He's now trimmed down to compete at 170 pounds, but that's just made him a large monster in this class.
Beyond the win in his welterweight debut, Giles is an excellent fighter despite his poor pace. His striking accuracy (54%), striking defense (60%), and takedown defense (73%) are all exceptional. Even before considering his matchup with Elder, Parsons' 49% striking defense is a concern.
Though it may not be thoroughly entertaining, this is a fight the UFC veteran, Giles, should win with ease.
Cory Sandhagen by Decision or Submission (-120; 1.2 Units)
As he continues to progress in the rankings, I'm not sure how much longer Chito Vera can get away with it.
Vera's not the type of MMA fighter to reduce to a number, but his -0.73 SSR does tell this story -- he actively gives away rounds. Vera capitalizes on mistakes rather than sustaining output, which is how he had a -31 striking differential to Dominick Cruz and a -112 differential to Rob Font despite clearly winning the fights.
That's just a dangerous game to play with top-shelf bantamweights. Cory Sandhagen (-186) has only been dropped once in UFC by former champion Petr Yan. Expecting three-plus knockdowns -- as he scored against Cruz and Font -- just isn't realistic.
With a +1.94 SSR, Sandhagen is more efficient, and he just has a higher level of output. He should dominate large chunks of this fight and is a deserved favorite to win it.
Now, Vera's granite chin isn't really primed to be knocked out. He's never even been dropped in 1,222 significant strikes absorbed throughout his career. I really can't believe I get to shave off this much juice to back the two plausible ways the moderate favorite would defeat Chito.
Dart Throws of the Week
Yana Santos by Decision (+360; 0.5 Units)
The saddest part about UFC is it becomes so painfully obvious when a fighter has lost his or her fastball. We saw that last week with reduced outputs from Joanne Wood and Kamaru Usman.
Holly Holm is another star who's just not a star on paper anymore. At 41 years old, Holm's performance against Ketlen Vieira was shockingly poor. Vieira lands just 41% of her strikes on average, so the 56% she blasted onto Holm -- once known for her defense -- was astonishing.
That drop could be further against Yana Santos (+168). Santos, the dominant grappler, held Viera to just seven significant strikes landed when she beat Ketlen back in 2021. However, as a striker, Santos also lands at a 56% clip -- 15 percentage points higher than Vieira.
In her prime, Holm could thwart a fighter like Santos behind her excellent takedown defense (78%). Now, that's just half the battle. She's got to prevent Santos (+1.34 SSR) from landing at will, too.
With no career knockdowns, Yana has very little power, though. If Holm loses but her takedown defense holds, it's likely in a fight going the whole distance -- as oddsmakers believe it will.
Albert Duraev by Submission (+370; 0.5 Units)
Chidi Njokuani's UFC career has gone about as well as possible to this point.
Njokuani needed just 16 seconds to dispatch Marc-Andre Barriault (4-5-1 UFC), so we didn't get to see that test as a starting point. Then, in his second bout, he ceded over three minutes of control to Dusko Todorovic before a fortunate elbow knockout in the clinch.
It finally bit him in his last fight. Even though he had opened a huge gash on Gregory Rodrigues' forehead, Rodrigues needed just one takedown to rain elbows onto Njokuani and turn the tide. It's now pretty clear that, between the Todorovic and Rodrigues bouts, Njokuani struggles with grappling situations. He's now matched with someone who is a specialist.
Albert Duraev (+142) hasn't lived up to his title-contender hype in UFC yet, but he's still a really solid, well-rounded fighter. His 65% striking defense keeps him safe on the feet to get to his wrestling. He's landed 2.11 takedowns per 15 minutes so far and added 1.1 submission attempts per 15.
Njokuani's lethal power is always a real threat, but this betting line is awful short when Njokuani has dispensed two multi-time UFC winners and badly injured a third. It's likely because Duraev is -- by far -- the best grappler he's faced, and this is a bet that it's a fatal flaw in this one.