3 Under-the-Radar MLB FanDuel Plays for 8/28/19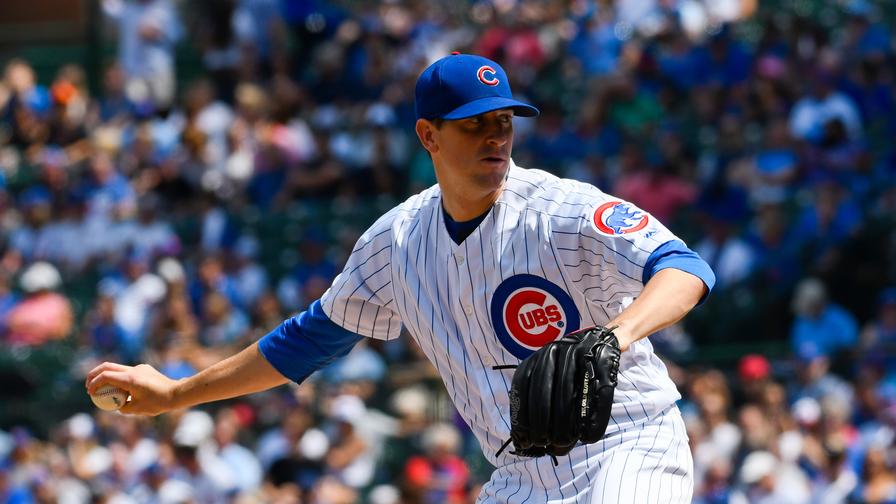 When being contrarian in daily fantasy sports, there's a fine line between taking a calculated risk and being reckless. But differentiating your lineups from everyone else is the name of the game if you plan on taking down one of those highly lucrative DFS tournaments. Whether it's because of Vegas totals, other options at a given position, or some gem you've found that everyone is overlooking, we can always find potential under-owned plays if we look hard enough.
Here are three such players to consider branching out for on FanDuel's main slate.
Kyle Hendricks, P, Chicago Cubs
FanDuel Price: $8,000
We are dealing with a slate which features three top-tier pitchers, so it can be tough to look past them, but Kyle Hendricks could be the key for roster construction tonight.
Gerrit Cole, Max Scherzer, and Noah Syndergaard are the best pitchers by a good margin, but they are all expensive on a slate which features Coors Field. The Boston Red Sox are the visiting team at Coors tonight, and they have an implied team total set at a whopping 7.44, so getting exposure to their hitters is the right idea. Paying up for a pitcher and getting those hitters into your lineup is the tough part, though, and pivoting down to Hendricks could make that process a bit easier.
Hendricks is a very good real-life pitcher but often leaves a bit to be desired in DFS, since he holds a low 20.9% strikeout rate, which is why he goes under-owned. But over his last 10 starts, Hendricks has allowed two or fewer earned runs nine times, along with picking up the quality start points six times in that span. The strikeouts can certainly lack for Hendricks, but he can make up for those points via the quality start or the win.
He also gets a positive park shift being on the road to take on the New York Mets, who are below league average in wRC+ and ISO versus right-handed pitchers.
Freddy Galvis, 2B, Cincinnati Reds
FanDuel Price: $2,800
Finding value every day can be an issue when it comes to MLB DFS and rounding out your roster, but today we have a great option under $3K.
That player is Freddy Galvis, who has been looking good since being claimed off waivers by the Cincinnati Reds just a few weeks ago. This isn't the best hitting environment on the slate, as they are on the road to take on the Miami Marlins, which should help keep his ownership a bit lower tonight.
A 4.61 implied team total for the Reds isn't too bad, though, and they have a bit of run-scoring potential in this matchup.
Galvis comes in with a solid .210 ISO, 39.3% fly-ball rate, and a 19.1% home-run-to-fly-ball rate versus right-handed pitchers this season. He is up against Sandy Alcantara, who struggles versus lefty hitters, allowing a 38.0% hard-hit rate and a 40.0% fly-ball rate. There is a bit of home run potential in this matchup, all while under $3K.
Danny Santana, 1B, Texas Rangers
FanDuel Price: $3,200
By no means are the Texas Rangers a good team, but we can pull some fantasy value out of their lineup tonight.
The Rangers are on the road to take on the Los Angeles Angels, who will have Patrick Sandoval on the mound. Sandoval only has 17.1 innings pitched in his entire Major League career -- all this season -- so there isn't much to pull from his small sample size.
In this case, I tend to rely on the hitters compared to the young pitcher with no experience. One hitter we should be able to lean on is Danny Santana, who has plenty of power in this split. Against lefty pitchers, he comes in with a bad 32.0% strikeout rate but a substantial .241 ISO and 26.1% home-run-to-fly-ball ratio.
You get plenty of power and home runs upside with Santana, but a dud from him is also in the cards with that high strikeout rate. He won't be anywhere near a cash game lineup but is great for tournaments with that power.