NASCAR Daily Fantasy Helper: Enjoy Illinois 300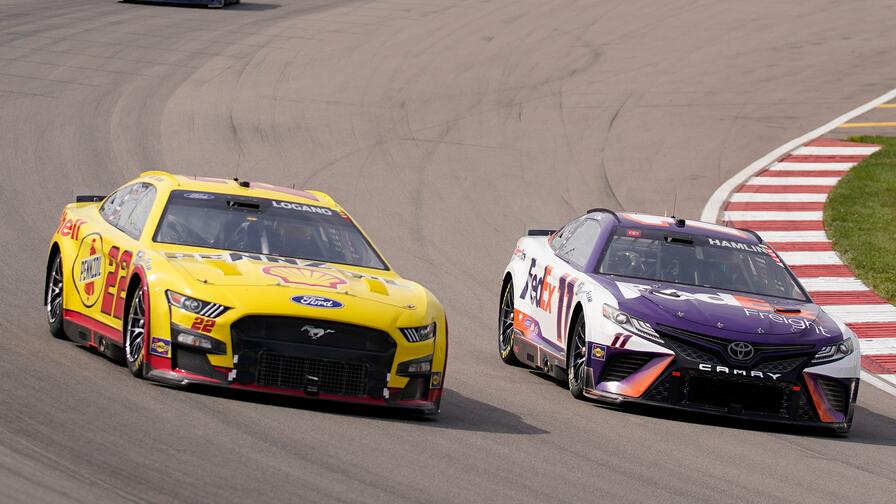 If you are looking for an action-packed way to consume sports on the weekend, NASCAR may be a great avenue to explore. Far from just driving in circles, some of the world's best compete nearly every weekend from February to November on tracks across America.
NASCAR drivers are scored ultimately based on how they finish in the race, how many spots they advance from their starting position, and how many laps they finish and lead. Avoiding drivers who crash out of the race is a must, though!
numberFire is always your home for fantasy NASCAR advice. In addition to this helper, Jim Sannes takes a look at the best bets of the weekend in his betting guide.
With all of this in mind, let's preview the Enjoy Illinois 300 at World Wide Technology Raceway on FanDuel.
Weekend Primer
Event
Time

Practice
Saturday, June 3rd
10:00 a.m. EST
Qualifying
Saturday, June 3rd
11:00 a.m. EST

This is a normal weekend other than the not-so-normal racetrack.
World Wide Technology Raceway in Madison, Illinois is a nearly-flat 1.25-mile oval with uneven turns, which is a trait most notable elsewhere at Darlington, and that circuit has a similar size. The tire wear isn't nearly as severe as Darlington's, though, so this track races completely differently.
It's what I'd call a "large short track," which also means it'll forgo the short-track aerodynamic package that's led to some snoozers this year. We can all rejoice about that.
Practice and qualifying will take place in a joint session on Saturday. Due to the unique layout of this circuit, I'll be fairly malleable to what we see in those sessions.
General Lineup Strategy
There are only 240 laps here, which presents just 24.0 FanDuel points for laps led. That's a lower total than we'll see at several larger tracks.
Off one year of data, I'm not really sure what that means for roster construction in daily fantasy. Kyle Busch led 66 laps to pace the field in last year's event, but that number alone wasn't as crucial as his second-place finish. Whichever car started out front after a caution just stayed there, and that really distributed laps led to several.
As mentioned, the tire wear not being super severe means we'll see gamblers on pit strategy. That should shuffle the field, and it's why I'm a bit more privy to being open to place-differential points with value plays despite what last year's race said. Only one driver that finished in the top 10 started outside the top-15 positions.
Above all, I just want fast cars, though. I'm not expecting an up-and-down, passing display like we saw last week at this flat oval.
Driver Rankings
Below are my pre-qualifying rankings for each driver based on equipment, track history, recent form, and overall talent level -- in that order. Only drivers with a win probability above 0% in Jim Sannes' win simulations or a top-20 finish this season were included.
MLT Rank is the driver's weighted average median lap time ranking at the relevant sample of similar race tracks to this weekend as a great indicator of overall speed. The prior races in the sample (with weight percentage) this week are:
2023 Phoenix (Spring) - 40%
2023 Martinsville (Spring) - 40%
2023 L.A. Clash (Spring) - 10%
2022 Gateway (Spring) - 10%
For dominator viability, the driver is ranked 0-10 on a scale to potentially lead laps and win the race if they start upfront. A "10" is among the favorites to win the race, and a "0" has no realistic chance of leading the race at any point.
For flex play viability, the driver is ranked 0-10 on a scale of potentially finishing inside the top 15 spots. These drivers will be better daily fantasy plays the further back in the field they start for optimal place-differential points.

Swaim's
Rank
Driver
Sannes'
Sims
MLT
Rank
Dominator
Viability


Flex
Play
Viability

1
Denny
Hamlin
11.66%
7
9
10
2
William
Byron
12.42%
12
9
10
3
Martin
Truex, Jr.
9.06%
13
9
10
4
Kyle
Larson
9.98%
2
8
10
5
Ryan
Blaney
6.24%
4
8
10
6
Christopher
Bell
8.00%
6
7
10
7
Kevin
Harvick
5.04%
1
7
10
8
Ross
Chastain
10.72%
9
7
10
9
Tyler
Reddick
5.06%
2
6
10
10
Kyle
Busch
2.62%
10
6
10
11
Joey
Logano
2.24%
16
5
9
12
Alex
Bowman
5.22%
8
4
9
13
Bubba
Wallace
1.94%
14
3
9
14
Brad
Keselowski
4.28%
17
3
9
15
Corey
LaJoie
1.20%
25
2
9
16
Aric
Almirola
0.82%
11
1
8
17
Daniel
Suarez
0.72%
14
1
8
18
Ty
Gibbs
0.28%
22
1
7
19
Chase
Briscoe
0.02%
5
0
6
20
Ryan
Preece
0.02%
18
0
6
21
Austin
Dillon
0.00%
19
0
6
22
A.J.
Allmendinger
0.06%
21
0
5
23
Chris
Buescher
1.04%
24
0
4
24
Austin
Cindric
0.04%
28
0
3
25
Erik
Jones
0.80%
27
0
2
26
Michael
McDowell
0.32%
20
0
2
27
Justin
Haley
0.02%
25
0
1
28
Ricky
Stenhouse, Jr.
0.14%
22
0
1
29
Harrison
Burton
0.02%
30
0
1
30
Todd
Gilliland
0.02%
29
0
0

You'll see far less consensus among fantasy rankings this week with such a difficult track to forecast, but Jim and I are aligned on Denny Hamlin ($12,500).
Hamlin's lone drawback -- and median time in my blend outside the top 10 -- was last year's event here. He was running seventh before his infamous run-in with Ross Chastain ($10,500), proceeding to chase Chastain around with his wounded race car. He's been extremely fast at other short, flat tracks while also winning at Kansas last month.
Of course, Hamlin and everyone else has otherwise taken a backseat to Hendrick's star duo of Kyle Larson ($14,000) and William Byron ($13,000). Phoenix and Martinsville are the two closest 2023 track comparisons in my blend, and Byron and Larson won at those venues, respectively. They should be factors for the win.
Last year, teammates Ryan Blaney ($11,000) and Joey Logano ($10,000) paced this field in terms of speed at Gateway, but it's a far different season. Logano won the title at Phoenix to cap a great year on flat ovals but had just the 16th-best median time at Phoenix earlier this year. Blaney's win last week could be a sign the program is moving in the right direction, though.
Really, Gateway is just a blown-up version of the flat track on which Martin Truex Jr. ($13,000) won February's L.A. Clash, so I think he's interesting with similar speed to Hamlin at the flats this year.
Rounding out the list of true contenders is Kevin Harvick ($9,000) to me. Harvick has a top-two median lap time at both major tracks in this sample, but the wrench thrown into this mix is that was a different aerodynamic package. I don't think he's truly the fastest car in town, but his salary allows for a lot less.
In terms of value plays, we can't ignore Alex Bowman ($9,500) and Corey Lajoie ($7,800) when Hendrick has been so dominant on these track types. Lajoie had a top-20 median time at Martinsville, and he's topped for several top-20 finishes this season with lesser equipment at Spire Motorsports. He's guiding the #9 car with Chase Elliott suspended.
As teammates of Harvick, Aric Almirola ($7,000) had a top-10 average running position here last year, and Chase Briscoe ($6,500) came away with the fastest median lap time at Martinsville earlier this year and holds a top-15 median time at all four tracks in the sample. Ryan Preece ($4,800) rounds out the group I'm higher on than most.
Brad Keselowski ($8,000), Michael McDowell ($5,800), and Austin Dillon ($5,500) are the other top-20 median times in this week's blend, but be open to fast cars on the 10-lap, 15-lap, and 20-lap average charts in practice when they're posted on Saturday.