College Football Betting Guide, Presented by Twisted Tea: Saturday 11/12/22
In what was probably the wildest week of college football this season, two major contenders lost unexpectedly. Clemson lost to Notre Dame in South Bend and Alabama lost to LSU in Death Valley. On top of that, Tennessee couldn't overcome Georgia, and the Bulldogs took over the top spot in the College Football Playoff Rankings.
The consensus top tier of contenders amongst the major prediction models consists of Georgia, Ohio State, Michigan, and Tennessee. The next tier includes TCU, Oregon, and Clemson. Amongst those seven teams, the only team that isn't favored this week is TCU, who plays Texas in Austin. Our model projects the spread to be in line with the current number, so we won't spend time on that matchup this week. Instead, we'll start with the biggest matchup of the week in the SEC.
While you're perusing lines and totals, be sure to check out Twisted Tea's College Football Picks, a betting-focused contest series that is entirely free to play and that gives you a chance to compete for a share of thousands of dollars in site credit.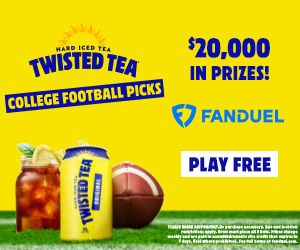 The contest is simple: each college football game will be assigned moneyline, spread, and total markets with assigned points to each market. All you have to do is make six selections based on those three markets and earn points for each correct selection you made. If your score ranks among the best in the contest, you'll be eligible for your share of site credit.
Make your picks today, and remember: please drink responsibly.
Note: All college football odds are from FanDuel Sportsbook. Lines are subject to change throughout the day after this article is published. All ratings are out of five stars. Please check numberFire's model to make sure you're seeing the most updated information.
Ole Miss +11.5: 3 Stars
We're picking on the Tide again this week after a road loss to LSU, but they've had a tumultuous season so far, despite having arguably the best player on offense (Bryce Young) and defense (Will Anderson Jr.) in the country.
The most significant issue facing Alabama is their wide receivers. Their current leading receiver is their running back, Jahmyr Gibbs. The Tide have had an elite run of receivers come through the program in the Nick Saban era, so the drop-off in talent is glaring. Just look at the list from the last few years: Jameson Williams, Heisman winner DeVonta Smith, Jerry Jeudy, Jaylen Waddle, Henry Ruggs, John Metchie, and Calvin Ridley. No one on the current roster compares to any of those players.
Ole Miss has the best rushing attack in the SEC, so it's possible that they have the ball more often than Alabama in this game. Quinshon Judkins already has over 1,000 yards this year, and Zach Evans is closing in on 700. Additionally, their offensive line is a great run-blocking group -- the Rebels are 17th in average line yards, per Football Outsiders. If Ole Miss can burn clock and score on the ground behind Judkins and Evans, Young will have to rely on a mediocre receiver group to get open to move the chains in a hurry.
Alabama is ultimately the more talented team all around, but the Rebels have a recipe for success. Ole Miss has a 62.9% likelihood of keeping the game close and covering the spread according to our model.
UCLA -19.5: 5 Stars
The Pac-12 is looking for its first appearance in the College Football Playoff since Washington qualified in 2016.
There are currently three one-loss teams vying for a spot: Oregon, USC, and UCLA. Oregon is ranked the highest right now because their one loss was to Georgia, but USC or UCLA would put themselves in a good position to end the drought if one of them were to run the table.
The Bruins have a scorching offense; they're fifth nationally in yards per game and second in the conference behind Oregon. UCLA's offensive line is in the top five of every run-blocking metric on Football Outsiders, and the dual threat of quarterback Dorian Thompson-Robinson and running back Zach Charbonnet has been lethal. Arizona allows the second-most rushing yards per game in the conference behind only Colorado.
One might point to the looming matchup against crosstown rival USC next week and conclude that this game is a trap game for UCLA, but Arizona just doesn't have the personnel to keep up with the Bruins. Our model projects UCLA to cover with a 76.4% probability, which should be easy for the Bruins with a solid performance from Thompson-Robinson.
Indiana +39.5: 5 Stars
Ohio State had some trouble with Northwestern last week, ultimately coming through in a 21-7 victory. The Buckeyes are giving Indiana a lot of points for a team that struggled to run the ball against the Big Ten's worst rushing defense last Saturday.
The Hoosiers aren't much better than the Wildcats at stopping the run on a yards-allowed-per-game basis, but their defensive line is ranked 28th in opportunity rate according to Football Outsiders. Ohio State has not had the healthiest running back room either; TreVeyon Henderson missed last week's win against Northwestern, and his status is uncertain for Saturday.
Quarterback Connor Bazelak has been relatively good for Indiana; he's got 9 interceptions compared to 12 touchdowns, but he's led the Hoosiers to fifth in the Big Ten in passing yards. Ohio State has been stout against the pass this season, but they're struggling to pressure the quarterback and rank just 44th in sack rate. If Bazelak has time to throw, that should be enough for Indiana to cover this massive spread. Our model concurs, projecting the Hoosiers to cover with a 75.0% probability.