College Football Betting Guide, Presented by Twisted Tea: Saturday 11/26/22
Every game matters during the college football season, but the magnifying glass is certainly out this late into the year.
Saturday's slate of games features plenty of season-altering potential wins and losses -- and that's particularly true for some big rivalry games.
While you're perusing lines and totals, be sure to check out Twisted Tea's College Football Picks, a betting-focused contest series that is entirely free to play and that gives you a chance to compete for a share of thousands of dollars in site credit.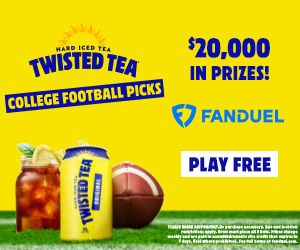 The contest is simple: each college football game will be assigned moneyline, spread, and total markets with assigned points to each market. All you have to do is make six selections based on those three markets and earn points for each correct selection you made. If your score ranks among the best in the contest, you'll be eligible for your share of site credit.
Make your picks today, and remember: please drink responsibly.
Note: All college football odds are from FanDuel Sportsbook. Lines are subject to change throughout the day after this article is published. All ratings are out of five stars. Please check numberFire's model to make sure you're seeing the most updated information.
Over 56.5 (-105) - 2 Stars out of 5
Michigan Wolverines +7.5 (-110) - 1 Star out of 5
The Game can't get a whole lot bigger than this year's iteration.
The 11-0 Michigan Wolverines face the 11-0 Ohio State Buckeyes in a clash that has the Buckeyes favored by 7.5 points at home.
In terms of SP+, both defenses are top-10 units, and the discrepancy between these two sides primarily comes through offense. The Buckeyes rank 4th, and the Wolverines are 28th
numberFire's adjusted passing yards per play metric ranks Ohio State 2nd in the nation, and quarterback C.J. Stroud leads all quarterbacks in QBR on the season, according to ESPN.
Despite an injury scare last week, Michigan running back Blake Corum is expected to play and doesn't seem concerned about his injury. Although Corum possesses Heisman Trophy potential (he's +2500, trailing only Caleb Williams at -130 and Stroud at +110), Michigan also comes in ranked 15th in opponent-adjusted passing yards per attempt.
Speaking of running back injuries, Ohio State has some with both TreVeyon Henderson and Miyan Williams, so both teams -- as expected this far into the season -- are not 100%.
numberFire's model thinks that Ohio State earns the absolutely crucial win with a 74.0% probability by an average score of 33.7 to 26.2. Therefore, it views Michigan +7.5 to be the better spread bet. However, it's just a one-unit suggestion.
There's two-star interest in the over.
Both teams have stellar defenses, yes, but the offenses are great, as well, and this game is projected to get to 57 or more combined points with a 59.5% probability.
Oregon State Beavers +3.5 (-110) - 2 Stars out of 5
Under 58.5 (-110) - 4 Stars out of 5
Another key rivalry awaits at 3:30 Eastern between two top 25 teams.
The 9-2 Oregon Ducks are ranked 9th, and the host squad, the 8-3 Oregon State Beavers, are 21st. numberFire's metrics rank Oregon 16th in the country with Oregon State 31st.
Oregon brings a top-five offense by SP+ to Reser Stadium in Corvallis -- but also defensive and special teams units that are just inside the top 50 in the nation.
They've been tested lately; that much is certain. They have hosted two top-25 opponents in the past two games (a 37-34 loss to the 25th-ranked Washington Huskies before bouncing back with a 20-17 win against the 10th-ranked Utah Utes).
Five games ago, they beat 9th-ranked UCLA 45-30 (once again at home). In total, they're 3-2 against ranked opponents, including a 49-3 loss to Georgia to open the season.
Oregon State is centered on its defense: they're 20th in defensive SP+ and 51st offensively. The FEI ratings view their offense a bit better (39th) but their defense (27th) a tad worse than how SP+ ranks them.
On their schedule to date, they have lost both games against ranked opponents. The 7th-ranked USC Trojans beat Oregon State 17-14 in Corvallis back on September 24th. The following week, Oregon State traveled to play 12th-ranked Utah and lost 42-16.
So, Oregon has been the more tested team, and they have the more capable offense.
However, the algorithm here is liking Oregon State to cover a 3.5-point spread, a pretty crucial number with that extra half-point there. Notably, while 70% of spread bets are on Oregon, the money is split 50/50, thus indicating some sharper action on the Beavers to cover.
The algorithm also thinks these teams combine for just 50.9 points, thus falling well short of the posted total.
USC Trojans Moneyline (-188) - 2 Stars out of 5
Under 64.5 (-110) - 3 Stars out of 5
The big games keep coming. We have 6th-ranked USC (10-1 on the season) hosting 15th-ranked Notre Dame (8-3) in an important rivalry game.
ESPN's FPI projections give USC a 14.3% chance to make the college football playoff, so they have no room for error in this matchup against a Notre Dame team that has won eight of their past nine games, dropping only a two-point game to Stanford in mid-October in that stretch.
As for USC, their only loss came on the road against 20th-ranked Utah, and they fell by a single point (43-42) in that matchup.
Heisman frontrunner Caleb Williams (again, -130 to win the trophy) ranks fifth in QBR and leads the nation's third-ranked offense by FEI.
Notre Dame seems to be a bit overrated at number 15, as numberFire's algorithm has them ranked 19th (same as the FEI ratings). SP+ actually ranks them 38th in the country.
With a 69.3% win probability for USC, it checks out that numberFire's model likes the USC moneyline at -188 odds.
The preferred angle, though, is for this game to stay under 64.5 points, which is 63.1% likely, per our algorithm.