Addison Russell Has Quietly Become One of Baseball's Best Shortstops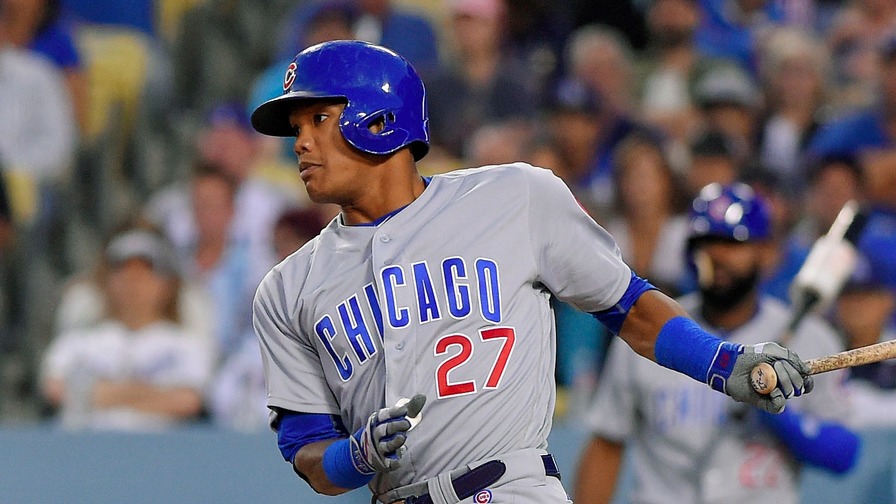 In the middle of the 2014 season, Oakland Athletics general manager Billy Beane did something unusual.
Of course, that is what is expected of Beane, the man who popularized Moneyball and who has long been lauded for his outside-the-box thinking and ability to gauge the current trends in baseball and go the other way.
So two years ago, when teams were busy hoarding prospects and eschewing picking up Major Leaguers at the trade deadline because they wanted to hang onto their young players, Beane zigged while everyone else was zagging. He traded for two starting pitchers from the Chicago Cubs, Jeff Samardzija and Jason Hammel, in exchange for a package of young players.
One of those players was a young Addison Russell, who at the time was a highly regarded, 20-year-old shortstop. Russell was seen as one of the best prospects in baseball, but hey, this is Billy Beane, so we have to like this trade, right?
Well, it didn't work out. The A's suffered a mighty collapse in the second half of 2014 and haven't been competitive since. Meanwhile, Russell is busy hitting bombs and producing runs for a Chicago Cubs outfit that is lapping the field in the NL Central.
This is why prospects are hoarded.
Addison Russell's homer, with the ESPN Deportes call. https://t.co/oFYtDETeEd
— Matt Clapp (@TheBlogfines) September 12, 2016

That dinger against the Houston Astros on Sunday night was his 20th of the season, and he now has 90 RBI as well. His slash line of .247/.330/.433 and wRC+ of 101 doesn't leap off the page, but when you factor in that he's still just 22, has put up the kind of power numbers he has for a shortstop, and is one of the best defenders in baseball with an fWAR of 4.2, you realize you're looking at one of the best players in baseball.
That fWAR is sixth-most among qualified MLB shortstops, by the way. Here is where he ranks among other shortstops in some key categories.
| Stat | Total | Rank |
| --- | --- | --- |
| Home Runs | 20 | 7 |
| Runs | 60 | 15 |
| RBI | 90 | T-1 |
| On-Base Plus Slugging | .763 | 12 |
| Defensive Runs Saved | 18 | 1 |
| Slugging Percentage | .433 | T-12 |
| FanGraphs Wins Above Replacement | 4.2 | 6 |

Not a bad year for someone playing in his second full season in the Majors, huh?
Not only is Russell one of the best shortstops in baseball, but he has also quietly moved up the leaderboard in fWAR among all National League players, tied for 10th among qualified National League position players. He's now one of three Cubs players (along with Kris Bryant and Anthony Rizzo) in the National League's top-10 in fWAR.
And with his 20th home run last night, he joined a select group of Chicago Cubs shortstops. Only Ernie Banks (6), Roy Smally (1), and Alex Gonzalez (1) have had a 20-homer season as a Cubs shortstop.
The most obvious reason for Russell's improvement at the plate are his walk and strikeout rates. His walk rate is up from 8.0% to 9.5% this year, and he's striking out less, 23.1% of his plate appearances this season -- down from 28.5% last year. He's increased his line drive rate (18.2% to 22.1%) and is making a bit more contact this year (71.1% to 73.2%), too.
The scary thing is that, at just 22 years old, there's still room for growth.
It's time to start talking about Russell in the same way we discuss Carlos Correa, Francisco Lindor, Xander Bogaerts, and Corey Seager.
He is that good, something the rest of baseball is becoming painfully aware of.