FanDuel Daily Fantasy Baseball Helper: Tuesday 9/27/22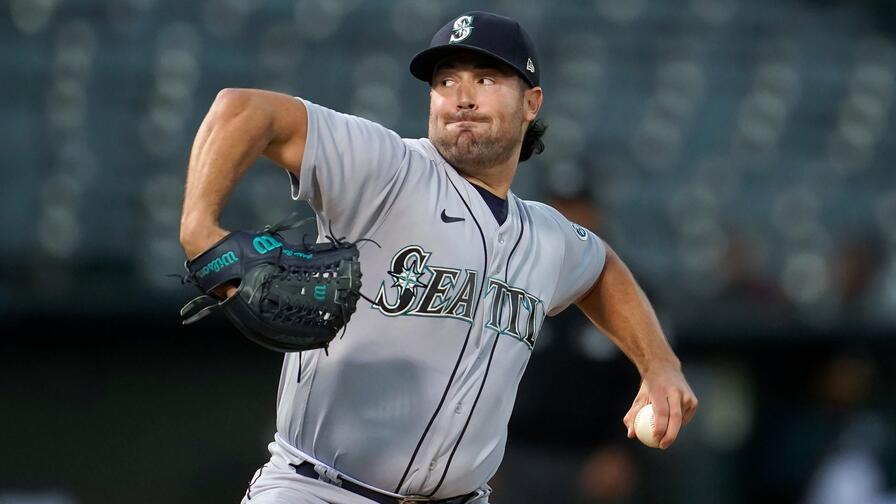 This may not be a slate that's filled with elite pitchers, but it's a pretty deep one overall through a mixture of high-end talent or solid arms in quality matchups. Offense could be slightly tougher to come by for our stacks, but some usual suspects like the Atlanta Braves and Houston Astros could emerge at the top tonight.
Our daily helper is available every day to analyze FanDuel's main slate and help give you a starting point when you're building lineups. Be sure to also incorporate our great tools into your research process. Whether you're looking for daily projections, the latest starting lineups and weather, or batting and pitching heat maps to find the best matchups -- we've got you covered!
Let's check out the top options on today's main slate.
Pitchers
Robbie Ray ($10,200): Ray's had a somewhat underwhelming September, but he still looks like the best option on the board in a solid spot against the Rangers.
While Texas still has some thump at the top of the order, the same can't be said for the bottom half of the lineup these days, which is littered with high-strikeout bats. In the month of September, the Rangers have posted a 94 wRC+ and 25.0% strikeout rate, and it isn't surprising to see them with one of the night's lesser implied totals (3.19).
On the year, Ray has posted a 3.44 SIERA, 27.8% strikeout rate, and 7.9% walk rate over 30 starts. The last time he faced these Rangers, he tied his season-high in strikeouts (12) and produced 57 FanDuel points.
Blake Snell ($10,800): In terms of pure upside, it's hard to ignore Snell despite his difficult matchup versus the Dodgers.
While the left-hander got knocked around in his last bout with L.A. earlier this month, he's proven that he can still come through against the toughest of opponents. Case in point, he most recently blitzed the Cardinals for 13 punchouts over 7 scoreless innings, leading to an absurd 70 FanDuel points.

Following a shaky start to the season, the often wild Snell has come through more often than not since the beginning of July, putting up a 2.64 xFIP, 35.8% strikeout rate, and 8.3% walk rate across his last 15 appearances. Putting your faith in Snell could greatly reward you in GPPs tonight.
Patrick Sandoval ($8,900): Guys like Lance McCullers ($10,800), Lance Lynn ($10,100), and Carlos Carrasco ($9,500) also deserve consideration on this deep pitching slate, but if you're looking to save at the position, then Sandoval could do the trick.
The Athletics are rolling out one of the weaker lineups in the league down the stretch, and against lefties, their active roster ranks 28th in wRC+ (88) and 26th in ISO (.133).
Sandoval falls in the "solid if unspectacular" range with a 3.96 SIERA, 23.9% strikeout rate, and 9.7% walk rate over 25 starts, but he's proven he can pop for big games, hitting 50 or more FanDuel points four times.
Those free passes are what tend to get the southpaw in trouble when he's off his game, but he's done a great job suppressing home runs with a just 30.0% fly-ball rate and 26.5% hard-hit rate. If he can maintain his control, Sandoval should be able to keep the A's off the board.
Stacks
Atlanta Braves
The Atlanta Braves are the top stack again on Tuesday, showing a slate-high 4.95 implied total against Paolo Espino.
Espino has seen time in both the rotation and bullpen, and while the results haven't been terrible, he's low on both strikeouts (19.0%) and ground balls (39.2%), and that's ultimately led to giving up 1.58 home runs per nine innings. We pretty much saw the same thing from the 35-year-old last season, too, as he gave up 1.56 dingers per nine.
When it comes to splits, Espino gives up more fly balls to righties (45.3%) but gets fewer strikeouts against lefties (16.5%), so there are positives to stacking both sides of the plate.
As per usual, the top two-thirds of the Braves' order is where the power is at, with Matt Olson ($3,300) and Travis d'Arnaud ($2,900) checking in with the most appealing salaries.
Eddie Rosario ($2,100) isn't having a great season, but he's found more success this month and can be utilized as a punt to fit in the high-salary bats.
Houston Astros
Right-hander Zach Davies has mediocre marks across the board, posting a 4.60 SIERA, 18.2% strikeout rate, 8.5% walk rate, and 39.6% fly-ball rate this year. He's allowed a whopping 1.73 dingers per nine innings in same-sided matchups but also has a rough 13.4% strikeout rate and 10.5% walk rate versus lefties.
It's all systems go for Houston Astros stacks tonight.
Lefties Yordan Alvarez ($4,500) and Kyle Tucker ($3,900) should be able to take advantage of that low strikeout rate, while Jose Altuve ($3,900) and Alex Bregman ($3,600) remain the top righty sticks. Jeremy Pena ($3,100) has value if he's back hitting second, and Trey Mancini ($2,700) is one of the more attractive low-salary bats at the bottom of the lineup.
Los Angeles Angels
It's been a while since the Los Angeles Angels cracked this list, but they have to be in the running against James Kaprielian.
Over 24 starts, Kaprielian has put together a brutal 5.20 SIERA, 16.3% strikeout rate, 10.6% walk rate, and 44.6% fly-ball rate. Much like the previous two pitchers we're attacking, he's struggling against both righties (5.58 xFIP) and lefties (4.99 xFIP).

If nothing else, we can roster Mike Trout ($4,400) and/or Shohei Ohtani ($4,100) without much hesitation. Cleanup hitter Taylor Ward ($3,600) is the one other guy with noteworthy power in the lineup, and leadoff man Luis Rengifo ($2,500) is a value play batting ahead of these three.
Beyond that, the lineup begins to really fall off, but the punt salaries can help round things out in full stacks.