Rajai Davis' Slide Into Home Yesterday Was Comically Bad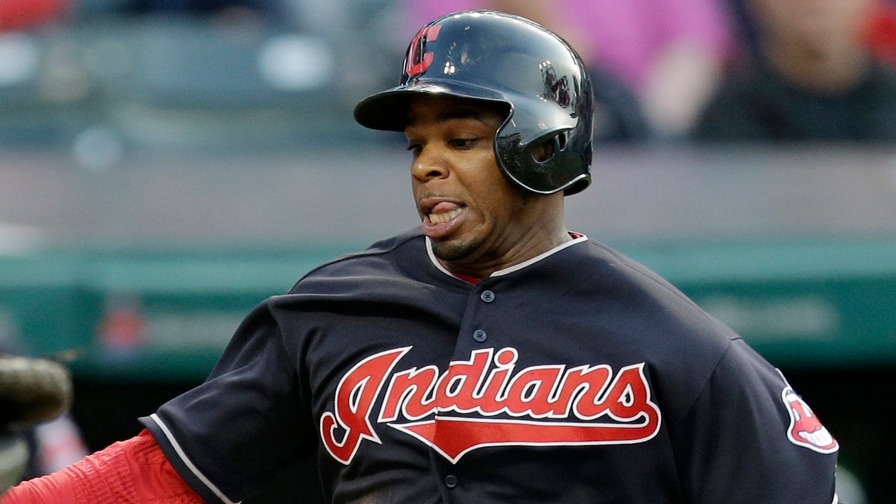 It's better to be lucky than good. I'm sure you've heard the phrase before, and I'd argue that -- out of the four major sports -- it rings most true within the game of baseball.
Remember Luis Gonzalez's "hit" to win the 2001 World Series?
He made poor contact and hit a weak flare that barely made it out of the infield. While you can argue that it was well placed -- especially with a drawn-in infield -- it was not hit with solid contact, and more times than not, that hit becomes an out. Mariano Rivera did his job and induced weak contact off of the handle of the bat and got beat for it.
Regardless, it goes down as a RBI single that won the World Series. That's baseball.
We had another example of a "lucky" play on Monday, courtesy of Cleveland Indians outfielder Rajai Davis.
What Went Down
To set the scene, Davis was on first base after drawing a two-out walk in the fourth inning with the score tied at four against the Cincinnati Reds. (Jose Ramirez was on third base.) Jason Kipnis then hit a ball to center field, and Davis took off immediately, trying to score from first, and providing us with this gem of a slide.
Coming. In. HOT. https://t.co/6kg3It1sf6 pic.twitter.com/qvoKerIIE3
— MLB GIFS (@MLBGIFs) May 17, 2016

Wait, what?
Davis was called out on the play, but after a Cleveland challenge, he was ruled safe, despite the horrendous attempt at sliding. His indecision on whether to slide or not is even more bizarre considering Davis had two teammates clearly telling him to slide. He was lucky that his back foot caught the plate, even though he would have easily been safe with a normal slide.
This ended up being a pivotal play in the game, as Kipnis' hit gave Cleveland the lead, but had Davis been ruled out, it would have ended the inning with Cleveland up by just one run. However, the run counted -- despite Davis' best efforts to make a routine play a difficult one -- and after two additional singles in the inning, Cleveland increased the score to 7-4.
This play also moved the win percentage significantly in Cleveland's favor, according to FanGraphs.
Prior to Davis' at-bat, Cleveland had a 54.7 percent chance at winning the contest. After Kipnis' hit and Davis' comical slide, the winning percentage jumped 21.8 points to 77.8 percent for the Indians.
A Jay Bruce single scored two runs the following inning, dropping Cleveland's chances at winning to 58.9 percent, but that's as low as they would go in a game that ended up being a blowout. Cleveland won the contest 15-6.
Indians' 15 runs ties their most ever against the Reds. They beat them 15-2 on July 2 2004
— ESPN Stats & Info (@ESPNStatsInfo) May 17, 2016

What makes Davis' ridiculously bad slide even more perplexing is that he's been superb on the bases for much of his career.
Minus 20 games played as a rookie in 2006, Davis owns a career 50.8 BsR -- FanGraphs' "all encompassing base running statistic" -- which ranks fifth-best over this time (2007 to 2015). While BsR ratings change year-to-year, FanGraphs says that a BsR of 6.0 is generally considered "Great," just below the top-tier of "Excellent" for a BsR of 8.0 or better.
Davis has played 100 games or more in seven seasons over his career. Out of these seven seasons, he has a BsR of 6.0 or greater in six of them, including a career high 9.4 BsR in 2013. His BsR so far this season is 0.5, which is tied for 65th-best.
While Davis' slide was far from graceful, it got the job done. I'm guessing he'll take the "luck" over the "good" in this instance, although he's probably luckier he didn't get hurt than he was to score the run.