Thursday Night Preview: Can New Orleans and Carolina Keep Their Slim Playoff Hopes Alive?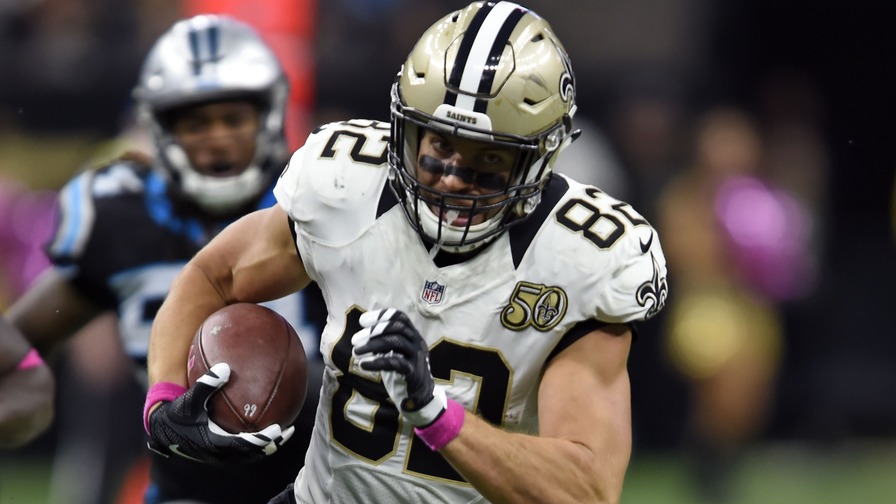 A week ago, the Baltimore Ravens steamrolled the Cleveland Browns in a rather dull Thursday night affair, but have no fear -- this week starts a run of some quality Thursday matchups, beginning with tonight's NFC South clash between the Carolina Panthers and New Orleans Saints.
Both teams suffered heartbreaking losses a week ago. The Panthers blew a big lead at home to the Kansas City Chiefs and now have a meager 1.5% chance of making the playoffs, per our models.
The Saints made Carolina's stunning defeat look mundane. The Denver Broncos blocked a late extra point and ran it back for a game-deciding two-point conversion in a wild win over New Orleans. The Saints, though, are in much better shape -- although it's still not ideal -- with a 24.4% chance of making the playoffs.
If either team has any hopes of coming back to steal the division from the Atlanta Falcons, they need a win tonight.
Quarterback Breakdown
Drew Brees has been one of the league's best passers in 2016. Among the 35 quarterbacks who have at least 100 drop backs, Brees checks in 4th in terms of Passing Net Expected Points (NEP) per drop back. In terms of Passing Success Rate -- the percentage of drop backs which result in a positive NEP gain -- there's been nobody better. Brees' passes have been successful 56.8% of the time. He's been as elite as elite gets (assuming we ignore Joe Flacco).
Cam Newton has not been so elite. Among the same group of signal callers, Cam checks in 26th in Passing NEP per drop back, and his passes have been successful only 44.3% (24th). Cam does provide great value as a runner as his Rushing NEP among quarterbacks ranks 5th thanks to a high volume of rushes (54).
The Saints passing offense ranks fourth, per our schedule-adjusted metrics, while Carolina is 25th. Although they haven't been quite as potent on the road, New Orleans has the edge in the passing game.
Running Back Play
The Saints still seem to be sorting out their identity at the running back position. Just three weeks ago, Mark Ingram was benched for fumbling in consecutive weeks, but in limited playing time the following week, Ingram went off against the San Francisco 49ers. Tim Hightower took lead back duties when Ingram was benched, but in Week 10, it went back to the original depth chart, as Ingram logged 22 snaps (43%) against the Denver Broncos and Hightower only played 14 snaps (27%). Travaris Cadet nearly matched Hightower, grabbing 10 snaps (20%).
Perhaps part of the reason for the yo-yo backfield is Ingram's inefficiency this season. In terms of Rushing NEP per carry, among the 34 backs with at least 75 attempts, Ingram ranks a dreadful 28th on the season.
Given Brees's excellent play, perhaps getting Ingram more involved in the passing game would be a smart move. Ingram ranks 4th among the same group of ball carriers in terms of Receiving NEP per Target, but he only ranks 11th in targets.
Jonathan Stewart, when healthy, has been the Panthers lead back, but he's also suffered from inefficiency in 2016, checking in 23rd among running backs in Rushing NEP per carry. In terms of Success Rate, both rate out pretty poorly -- Ingram is 15th, and Stewart is 26th.
Defensive Matchup
This matchup will more than likely come down to whether or not a strong Panthers defense can shut down a fantastic Saints passing attack.
Per our schedule-adjusted per play rankings, the Panthers' defense ranks 10th. Unfortunately for the Panthers, this isn't a great matchup for them. On the passing side, the Panthers rank in the middle of the pack at 16th. They are buoyed by a very strong run defense, which stacks up 7th best in the league.
The Saints' defense, however, is just bad in all forms. They rank 29th overall, according our metrics, and they are worse versus the pass (29th) than they are against the run (21st).
In terms of Adjusted Sack Rate from Pro Football Outsiders, Carolina has logged 27 sacks -- including 7 sacks over the last two weeks -- on their way to an an adjusted rate of 7.7%, good for 7th-best. The Saints, meanwhile, have been pretty poor getting to the quarterback, logging a paltry 17 sacks on their way to an adjusted rate of only 5.0% (24th).

To read all premium content, upgrade to a Premium account with numberFire
If you're not a Premium subscriber, it takes just a few seconds to sign up. You'll get access to all of our insider information, game projections, handicapping advice, DFS tools, advanced statistics, and more.