Can Sean McVay Rid the Los Angeles Rams of Their Losing Ways?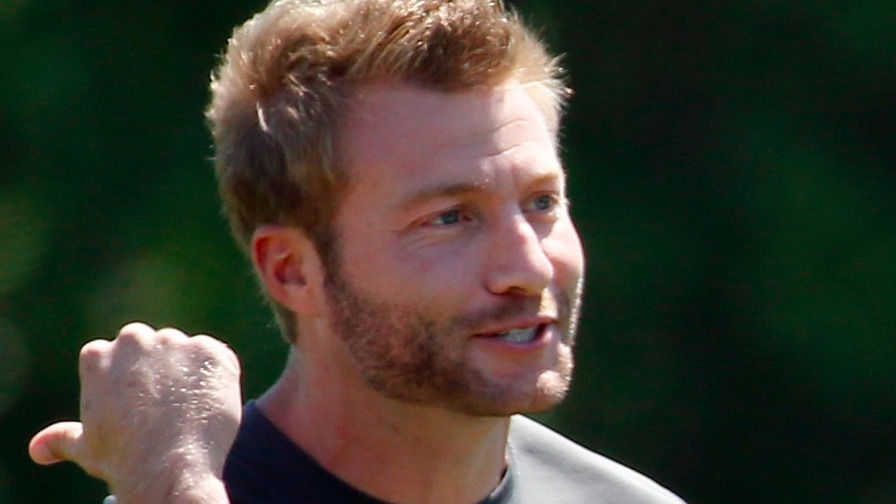 What were you doing back in 1986?
You may have been slow-jamming to "That's What Friends Are For," which topped the Billboard charts in mid-January. Matlock debuted in March, giving the Andy Griffith truthers among ye cause for hope. Meanwhile, the youngins were probably dinking around on something called a "Nintendo Entertainment System" that had come to North America just the previous October.
If you're the Los Angeles Rams, you were busy getting steamrolled by the Chicago Bears, 24-0, as the Bears shuffled their way toward a Super Bowl XX championship. Twelve days after the Rams' loss, a little pup named Sean McVay was born.
Less than 31 years later, McVay is now the head coach of that very same Rams team, back in Los Angeles for a second go-round after their stint in St. Louis. McVay is the youngest head coach in NFL history, and he's inheriting a roster that's largely in the same mold. This may not work, but it'll sure as heck be interesting.
McVay has a tough task ahead of him, trying to turn around a team that just finished 4-12, its 10th straight season below .500, resulting in the ouster of former head coach, Jeff Fisher. They've got plenty of talent on defense, but question marks abound on the offensive line and at quarterback after a shaky rookie year out of Jared Goff. Is McVay the guy who can finally get the Rams back to their glory years?
Let's try to figure this out with some help from numberFire's Net Expected Points (NEP), the metric we use to track the efficiency of both teams and players with the team totals being adjusted for strength of opponent. There's a big difference between a three-yard gain on 3rd and 2 and that same gain on 3rd and 4, and NEP helps quantify those differences by showing the expected points a team gains or loses on each and every play.
We'll start things off by checking out what ailed the Rams most in 2016. Then we'll look back at McVay's track record as the offensive coordinator for Washington to see if there's reason for hope.
Complete Offensive Ineptitude
When McVay was with Washington, he had some sweet talent around him with guys like DeSean Jackson, Jordan Reed, and Pierre Garcon. Peeps like that can certainly make a transition to a new team mighty cozy.
Yeah. This is gonna be a struggle.
The Rams finished 2016 as numberFire's least-efficient offense in the entire league. They were last overall, last through the air, and 31st on the ground. Firmly, truly not great, Bob.
A big part of this blame goes to the quarterbacks, Goff and Case Keenum. You can question whether Goff should have been starting the entire year after being selected first overall in the draft, but you can't question his effectiveness once he got the job.
x-axis: QB Net Expected Points added per drop back
y-axis: Success Rate, or % of positive expected points plays.
Bottom left: Jared Goff pic.twitter.com/Whz3mRdhau
— JJ Zachariason (@LateRoundQB) January 13, 2017
Hide yo kids, hide yo wife, and hide yo metrics-lovin' self to safeguard the world from these crimes against efficiency.
Goff's 231 drop backs resulted in -64.56 Passing NEP. Only -48.99 of that came from expected points lost on sacks, meaning that even when Goff was able to get rid of the ball, bad things was poppin'. That's not a feat many quarterbacks can boast, but Goff's a card-carrying member of the club now.
Things were superbly grim for Goff in his first crack in the league. But that doesn't mean we should simply abandon hope on him.
Goff just turned 22 years old in October, making him the NFL's youngest quarterback. The easy comparison is to fellow rookie and second overall pick Carson Wentz, but Wentz is almost two full years older than Goff. We probably shouldn't have expected Goff to excel right out of the gate.
Second, Goff had a solid statistical resume when he was in college at Cal, something that has historically correlated to a quarterback's success in the NFL. The odds are certainly stacked against him, but there are still reasons to like what he has to offer.
The same can be said about running back Todd Gurley. Gurley was also among the league's worst in 2016, finishing 47th in Rushing NEP per carry of the 54 running backs who had at least 80 attempts. He was 46th in Success Rate, something that plagued him in his rookie year, as well. That doesn't mean he's fully devoid of talent.
On runs up the middle, the Rams finished the year ranked 11th in Success Rate as a team. That's completely acceptable. They paired that, though, with a 31st-place ranking to the left and 32nd to the right, helping Gurley plummet to the bottom of the charts individually.
Their need for an upgrade at tackle becomes even more apparent when you check out their overall sack numbers. They finished 31st in Sack NEP per drop back with only the Cleveland Browns losing more expected points due to sacks on a per-drop back basis. The Rams could try to renovate up front through the draft, but their first-round pick is shacked up with the Tennessee Titans after last year's trade up to select Goff.
If the Rams were able to upgrade their offensive line, it could go a long way toward curing some of the ills for both Gurley and Goff. It's just a question of how they'll address that need without a high draft pick at their disposal.
On the defensive side, McVay has defensive guru Wade Phillips to go with studs like defensive linemen Aaron Donald and Robert Quinn. They should be able to work things out there. The offense, however, is far less certain. Thankfully, McVay has a track record of success in that department.
Resurrecting Washington
When McVay took over as Washington's offensive coordinator, the team was coming off a brutal 3-13 season in which neither Robert Griffin III nor Kirk Cousins could get the offense pumping. Things changed quickly once McVay took over.
Here are the team's ranks in that four-year span, starting with the year before McVay got his promotion. These are all based on numberFire's schedule-adjusted metrics for the season.
| Season | Overall Rank | Passing Rank | Rushing Rank |
| --- | --- | --- | --- |
| 2013 | 26th | 25th | 15th |
| 2014 | 20th | 25th | 14th |
| 2015 | 9th | 4th | 28th |
| 2016 | 6th | 5th | 8th |

The team jumped to 20th in Adjusted NEP per play in McVay's first year, and they climbed the ladder in each of the following two seasons. Cousins went from a backup to a man deserving of the franchise tag, and it all occurred under McVay's watch.
Again, it's hard to tell what role McVay played in this. The team did have talent surrounding Cousins at receiver, and they had the draft capital to invest up front. That's not a luxury McVay will have in Los Angeles, and it's going to lead to potential tough sledding early on. Regardless, McVay has shown he can bring about improvements for an offense, something the Rams will sorely need.
Conclusions
These Rams are far from being an easy fix. They've got problems out the wazoo on offense, and they don't have the resources to patch things up. They may have found the right guy to give it a shot, though.
McVay proved in Washington that he can help dig a team out of the gutter. In just three years as offensive coordinator, he helped turn them into a top-tier offense that made the playoffs one year and was one interception away in the other. McVay's youth wasn't a hindrance there, and we shouldn't assume it will be in Los Angeles, either.
Goff and Gurley have their issues, but it's possible at least some of that derived from the offensive line. These are two players who flashed talent collegiately (and, for Gurley, in his rookie season), and they could flash it again if they can get help around them. While acquiring that talent is another matter, we shouldn't give up on these two yet.
McVay has a difficult road ahead in trying to shake a team of a 10-year losing skid. It's entirely possible his first head-coaching gig will wind up going down as a failure. But that doesn't mean we should write things off completely. McVay has shown once that he can revive an inept offense, and he'll have the chance to do so again in the coming years.