Fantasy Football Start or Sit: Week 2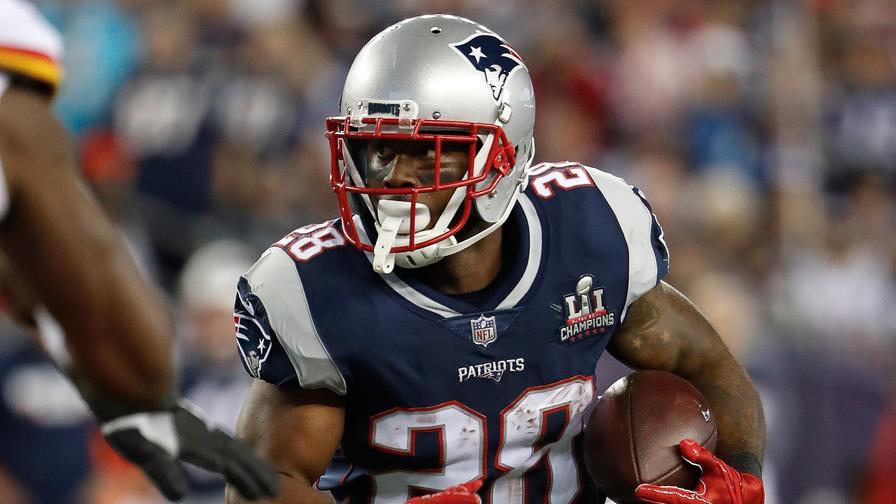 You wouldn't be reacting to Week 1 the way you are today if we had a larger season-long sample.
If it was Week 7, and Carson Palmer had proven to be a reliable streaming option off the waiver wire, you wouldn't be talking about his career coming to an end. Had Eric Ebron given you a performance or two of top tight end production, you wouldn't consider dropping him. If Eddie Lacy...oh, uh, nevermind.
In a game of small sample sizes, let's not make an even smaller sample negate the months of research done prior to the season. Sure, we got an idea of how players may perform this season based on Week 1 -- Eddie Lacy probably won't be a thing this year, truthers -- but matchups can dictate so, so much. And, honestly, so can dumb luck.
So take a deep breath, hold your nose, and try your best to not weigh what you saw in Week 1 too heavily when you're making start-sit choices this week.
Quarterback
Start Carson Palmer (at Indianapolis): It's going to feel uncomfortable, but Carson Palmer is in another good spot in Week 2. And it's a better matchup than what he saw last week.
The Colts were torched by Jared Goff in LA this past Sunday, as he threw for 306 yards on just 29 attempts. After averaging 5.31 yards per attempt during his rookie year, that bump to 10.55 in Week 1 looked pret-tay nice.
One of the ways Goff was able to dissect the defense was through the deep ball, something he didn't utilize much during his rookie year. He went 5 for 6 for 136 yards and a score on balls that travelled 15 or more yards through the air, giving him a perfect quarterback rating on those tosses.
Meanwhile, Bruce Arians' offense (Carson Palmer's offense) is all about chucking it deep. Last year, Palmer ranked 10th among relevant quarterbacks in percentage of pass attempts that travelled 15-plus air yards, and in 2015, he ranked first.
All of this is going to be enabled by Vontae Davis being sidelined. He missed Week 1 with a groin injury, and it sounds like it's a significant one. If he's out again in Week 2, Palmer could eat.
Sit Jay Cutler (at Los Angeles): You may look at Cutler's matchup this week and think it's a good one. After all, Trevor Siemian just lit up the Chargers' D with almost 23 standard fantasy points on Monday night.
Siemian also needed a rushing touchdown to get there, though. The truth is, this Los Angeles (it still feels weird to type that) secondary is one of the better ones in football with two cornerbacks -- Jason Verrett and Casey Hayward -- who can shut down opposing wideouts. It was a top-10 defense last season, according to our schedule-adjusted Net Expected Points (NEP) metric, and that was without Verrett for most of the year. Again, this didn't exactly show in Week 1, but that's why we shouldn't overreact.
The Dolphins will be on the road in this one, and they have a bottom-half Vegas implied team total on the week. Cutler's a very risky start.
Start Sam Bradford (deeper play, at Pittsburgh): Against New Orleans Saints on Monday night, Bradford was able to complete 8 of 9 deep targets for over 200 yards and a score. He ended the week with the league's highest passing yardage total on those types of throws, having thrown it deep roughly four more times in Week 1 than he averaged all of last year.
Bradford's not a bad deep ball thrower -- he ranked sixth in completion percentage on passes that travelled 15 or more yards down the field last year. He just didn't do it very often, mostly because the Vikings' offensive line has been a mess for over a year. That was negated in Week 1 because of a matchup against a subpar Saints defense that had just two quarterback hits.
The Steelers are much different. Though the matchup was easier for them in Week 1, Pittsburgh ended their game against Cleveland with eight quarterback hits, the fifth-most in the NFL. They'll pressure Bradford more than he saw against New Orleans, which could limit his upside.
With that being said, Bradford still makes for an OK-enough streaming play. He looked nearly flawless with any sort of time in the pocket on Monday night, and the Steeler secondary was porous at times against rookie DeShone Kizer in Week 1.
So Bradford comes with risk, but if the Vikings click like they did in Week 1, the reward is still there for quarterback streamers.
Sit Matthew Stafford (at New York): Stafford posted a great performance in Week 1 despite a tough matchup. But he was also at home where he's scored roughly three more fantasy points per game versus on the road over the last three years.
The Giants secondary didn't have their best game last Sunday night, but it's still a talented group. Vegas seems to think so, as well, as this week's contest currently sits with a 43.5-point over/under with the G-Men as four-point favorites. It could, overall, end up being a low-scoring game in New York on Monday night, and I wouldn't want to trot out Stafford as a result.
Other quarterbacks to start: Alex Smith (vs. Philadelphia), Ben Roethlisberger (vs. Minnesota)
Other quarterbacks to sit: Dak Prescott (at Denver), Andy Dalton (vs. Houston)
Running Back
Start Terrance West (vs. Cleveland): Though Buck Allen outsnapped West against the Bengals in Week 1, we have to believe a lot of it had to do with the fact that the game was out of hand and the Ravens wanted to keep their starting running back fresh. Allen will still be involved a good bit in Week 2, but West is going to get the start and more than likely see work at the goal line -- he was the only Baltimore back who saw an attempt within the Cincinnati five-yard line last week. Against Cleveland, as 7.5-point favorites, West and the Ravens should have plenty of opportunity to pound the rock in Week 2.
Sit Ameer Abdullah (at New York): As noted with Stafford above, scoring opportunities may be limited for the Lions this week. And even if they weren't, I'm not sure how confident Abdullah owners should be feeling today. He played 51% of the team's snaps in Week 1 (27th-highest at the running back position), and while he saw a goal-line carry with Zach Zenner inactive, teammate Dwayne Washington had as many carries (two) as Abdullah from within the opponent's 10-yard line.
And if this indeed ends up being a negative game script for Detroit like Vegas thinks it will, we may see more Theo Riddick on the field this week instead of Abdullah. That's on top of the fact that -- again, ignore Week 1 here because of matchup -- New York had one of the best run defenses in the league last season.
Start James White (at New Orleans): Anytime there's a big Vegas game total on the board -- like this week between the Saints and the Patriots -- you should do your best to get players on those teams into your lineup. Especially when that game is being played in the Superdome, the Coors Field of the NFL.
White's intriguing not just because he'll be playing in that high-scoring game, but he may be playing a lot in it. In Week 1, he played 53% of New England's snaps, which led the team. And his usage was great -- he carried the ball 10 times and saw 5 targets through the air. It was the first NFL game in which White saw double-digit carries. Ever. (His previous career high was seven.)
Even though we generally want to target White in possible negative game scripts due to his pass-catching ability, it's important to note that none of his carries occurred in the fourth quarter in Week 1. So that's 10 carries in three quarters. If he sees that kind of workload against the Saints, he could put together a nice day.
Sit Rob Kelley (at Los Angeles): Just 3 of Rob Kelley's 10 rushes from Week 1 were deemed a success, according to our expected points model, which is certainly below average for a running back. He played 52% of the team's snaps against the Eagles last week -- not a hugely worthwhile number for an early-down back -- saw just one target, and tallied a mere 30 yards on the ground. Not great.
The Rams are expecting Aaron Donald back in this Week 2 tilt against Washington, making this an even more difficult matchup for Kelley than originally thought. Given his Week 1 performance alone, to be honest, I'm not sure you can be all that confident in him -- he'll basically have to score a touchdown to be a valuable start. And I wouldn't want to bank on that after he ended last week without a goal-line touch.
Start Alvin Kamara (vs. New England): One of the more shocking things that happened in Week 1 -- at least from a fantasy standpoint -- was Alvin Kamara's usage for New Orleans. He led the Saints' backfield in snaps, getting the ball seven times on the ground with another six targets through the air. A huge red flag with Kamara entering the NFL was his lack of usage on the ground, as he averaged only 9.36 carries per game during his final season at Tennessee. We normally don't see successful NFL running backs who didn't carry a large workload in college, so to see him get seven Week 1 attempts was a big surprise.
He landed in the perfect spot for his skillset, though, and the passing game volume is absolutely noteworthy. That's definitely true this week. The Saints, who always score points at home (they averaged 31 points per game in New Orleans last year), are, as I noted earlier, 6.5-point underdogs to New England. That negative game script could force the pass-catching Kamara on the field for another hefty snap count. If that happens, he'll more than likely end up as a viable PPR asset in fantasy this week.
Other running backs to start: Jacquizz Rodgers (vs. Chicago), Javorius Allen (deeper play, vs. Cleveland)
Other running backs to sit: Joe Mixon (vs. Houston), Matt Forte (at Oakland)
Wide Receiver
Start John Brown (at Indianapolis): Update: Brown is out for Week 2, but using the same logic below, you can take a look at J.J. Nelson or Jaron Brown in deeper leagues.
Brown played a solid 84% of Arizona's snaps in Week 1 against the Lions, but fantasy owners may be a little upset that he only finished with 4 catches for 44 yards. The good news is that he saw nine targets, accounting for nearly 20% of the team's looks in the game. And, according to Kevin Cole's expected fantasy points model that uses air yards to help determine how many fantasy points a player should've had, Brown simply underperformed based on his usage in Week 1 -- his expected total was 17.5 points, but he scored a little more than 7. That difference was the third-highest at wide receiver this past week.
That doesn't simply mean he was bad. It means regression could hit. And that could very well happen here in Week 2 against the aforementioned Colts' secondary, which looks like a college unit without Vontae Davis.
Sit T.Y. Hilton (vs. Arizona): Let's just forget about the matchup and the fact that Arizona's secondary is a top-half one in football. Hilton himself -- with Jacoby Brissett or Scott Tolzien or any other non-Andrew Luck quarterback they try to throw under center in Indy -- is really, really hard to rely on right now. He finished Week 1 with 7 targets but caught just 3 of them for 57 yards. He also got 32 of those yards on one reception. That's fine, I guess (it's actually not), but where's the upside? The Colts are at home with one of the worst implied team totals of the week (lack of scoring), the matchup isn't great (lack of targets), and they have no quarterback (lack of good throws). Bench Hilton until we get Luck under center once again.
Start Randall Cobb (at Atlanta): Another game that should be super high scoring this week is the one that will be played in Atlanta, as the Falcons host the Packers. Cobb's usage in Week 1 was encouraging, as he played 77% of the team's snaps and easily led Green Bay in targets with 13. He didn't see any red zone targets, but Aaron Rodgers actually didn't throw a single red zone pass in Week 1 because they ran just one red zone play.
The theme for this week is pretty consistent: target high-enough usage players in games that should see a lot of points. Last season when the Packers met the Falcons in the NFC Championship, Cobb accounted for 9 of Rodgers' 45 pass attempts (20% market share) and finished with a 6-catch, 82-yard stat line. He shouldn't have a ton of trouble doing something similar this week.
Sit Pierre Garcon (at Seattle): Garcon should see volume each week because of lack of competition, making him a reasonable start in any deep league. We should realize that he's going to Seattle this week, though, where the 49ers have just a 14-point implied team total. Last week, the Panthers were able to get to quarterback Brian Hoyer frequently, hitting him eight times and sacking him on four of them. The Seahawks' D got to Aaron Rodgers in Week 1 at the same frequency. Imagine the Hawks' D at home against a far worse offense.
Quite simply -- and, really, it's very simple -- if you're shooting for any sort of upside, Garcon's not your play.
Start Chris Hogan (at New Orleans): Last season, Tom Brady averaged 6.25 15-plus air yard throws per game. On Thursday, he threw 15 of them, the most of any quarterback in Week 1. Hogan was on the receiving end of four of those passes. That's a huge plus against the Saints, who, as I talked about earlier, were destroyed by Sam Bradford on those long throws in Week 1.
As I said in this week's 15 Transactions column, Hogan's Week 1 game went beyond those deep passes. He ran over 64% of his routes from the slot, which is the area of the field Brady has historically loved to target. And he played 90% of New England's snaps, which ended up being the 16th-highest rate at wide receiver this past week in the entire NFL.
He'll be on the field, he'll be in the slot, and he'll be on the receiving end of some hopeful deep tosses. Hogan, against a secondary that looked dead in Week 1, is a great play this week.
Other wide receivers to start: Kelvin Benjamin (vs. Buffalo), Paul Richardson (deeper play, vs. San Francisco), Tyrell Williams (deeper play, vs. Miami)
Other wide receivers to sit: Brandon Marshall (vs. Detroit), Marvin Jones (at New York)
Tight End
Start Coby Fleener (vs. New England): We now have a two-game sample of Coby Fleener in New Orleans without Willie Snead, and in those two games, he's seen 17 targets, 12 catches, and 2 touchdowns. He didn't play a ton of snaps in Week 1 against Minnesota, which is a little worrisome (52%), but, again, we're aiming to get players in our lineups who are playing in this Saints-Patriots game. In a negative game script, Fleener could easily see seven or eight targets this week, making him a strong tight end option.
Sit Hunter Henry (vs. Miami): In truth, I thought Hunter Henry would've done something against Denver in Week 1, as teams generally utilize their tight ends to attack the Broncos defense. Instead, he laid an egg and was outsnapped by geriatric teammate Antonio Gates. Until we see more love from his coaches -- until we see him on the field more -- we can't trust Hunter Henry.
Start Eric Ebron (at New York): I've talked down a pair of Detroit Lions already, but the one player I'm more optimistic about this week against the G-Men is Ebron. New York struggled against tight ends last year, surrendering the fourth-most fantasy points to the position. And that seemed to continue in Week 1, as Jason Witten dad-ran all over the Giants' D for 7 catches, 59 yards, and a score on 9 targets. Though Ebron didn't contribute much in Week 1 -- he had just three targets -- he still played 72% of Detroit's snaps in a positive game script. He could bounce back this week.
Other tight ends to start: Zach Miller (deeper play, vs. Tampa Bay), Jared Cook (deeper play, vs. New York)
Other tight ends to sit: Jack Doyle (vs. Arizona), Tyler Eifert (shallow play, vs. Houston)
Defense
Start the Baltimore Ravens (vs. Cleveland): The Steelers were able to get to DeShone Kizer seven times in Week 1 as he continuously looked for the big play down the field. That's his game -- he wants to make big plays. That could be tough against Baltimore. Their top-10 secondary showed its strength in Week 1 against Andy Dalton, picking him off four times. And they sacked him five times. If Kizer thinks he can get away with waiting for open coverage down the field against a more difficult secondary than Pittsburgh's, he could be in store for a long day.
Sit the Minnesota Vikings (at Pittsburgh): The Vikings were strong defensively on Monday night, but it was a tough matchup in total. They finished with just two fantasy points, showing the fantasy football world that good offenses can indeed make top-10 defenses irrelevant in fantasy football, even with what was a good real-life performance from the D. The Vikings are away from home this week as they travel to Heinz Field, where the Steelers have averaged nearly 30 points per game over the last two years. Starting the Vikings' defense is just not worth it.
Other defenses to start: Oakland Raiders (vs. New York), Arizona Cardinals (at Indianapolis), Cincinnati Bengals (vs. Houston)
Other defenses to sit: Pittsburgh Steelers (vs. Minnesota), Philadelphia Eagles (at Kansas City)