Should You Be Buying Tyrell Williams Over Mike Williams in Fantasy Football?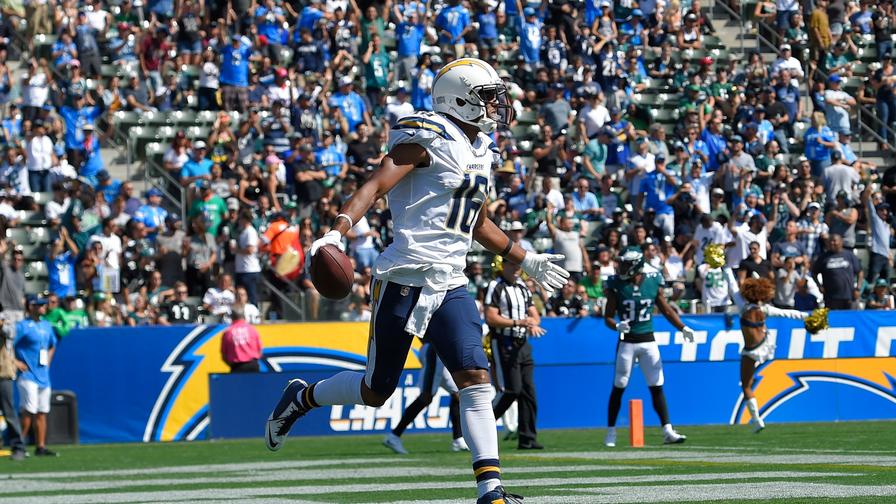 Hunter Henry's hopes for a spotlight year in 2018 came to a devastating halt in Tuesday's practice as the third year tight end suffered what the team believes is a torn ACL. Having operated in a timeshare with eventual Hall-of-Famer Antonio Gates over the past two years, Henry was set to steal the show since the team moved on from the aging Gates.
Now, the Chargers are back to square one at the tight end position, where the lead man on the depth chart is Virgil Green, who has never topped 22 receptions in a season throughout his seven-year NFL career. It would stand to reason that the Chargers may seek a reunion with Gates or possibly dabble in free agency, where Marcedes Lewis, Julius Thomas, and Brent Celek remain unsigned. But until such a transaction occurs, the major benefactors of the Chargers' tight end vacancy may be the second and third wide receivers in the rotation -- Mike Williams and Tyrell Williams.
Breaking It Down
From 2015 to 2017, the Chargers have thrown to the tight end 24.5, 26.2, and 21.2 percent of the time. That three-year average makes the Chargers the eighth highest team in the league in tight end target market share. With the void currently in place, it's possible that LA could buck the trend and become one of the least tight-end friendly teams in the league.
While whomever the Bolts start at tight end will surely see some looks, many of the vacated targets could go to the team's wide receivers and running backs.
In 2017, Keenan Allen's 159 targets dominated 28% of the Chargers passing attack. Next in line, Melvin Gordon added 26 targets to his previous career-high mark, totaling 83 on the year. Allen and Gordon ranked fifth and seventh, respectively, in the NFL in targets at their respective positions. Given that their target ceiling is mostly established, that leaves Mike Williams and Tyrell Williams to assume a lot of the leftover targets.
Mike Williams was the Chargers' seventh overall pick in the 2017 NFL Draft, and he missed a lot of time in year one with a "mild disc herniation in his lower back." He suffered that injury on the first day of rookie minicamp. He also went down with a bone bruise in his knee midseason, missing a game. More notably, he fractured a vertebrae while still at Clemson in 2015. The ongoing back problems are concerning despite Williams' notable draft equity.
Tyrell Williams was an undrafted free agent from Western Oregon, about as opposite as possible from Mike Williams' blue-chip status. But in 2016, Tyrell went on to break out in his second season, filling a void created by Keenan Allen's Week 1 knee injury. Tyrell saw 21% of the Chargers' targets and caught 69 balls for 1,059 yards and 7 touchdowns. With Allen healthy all year and the addition of Mike Williams, Tyrell Williams raked in 728 yards on 69 targets in 2017.
Picking a Side
So, which Williams should we be targeting in fantasy drafts?
Let's take a look at some historical context.
First, is Mike Williams squeezing Tyrell Williams out of production? Here is how Tyrell played with and without Mike in the lineup in 2017.
| Stat | With Mike Williams | Without Mike Williams |
| --- | --- | --- |
| Games | 9 | 7 |
| PPR Points | 8.4 | 9.2 |
| Receptions | 2.6 | 2.9 |
| Touchdowns | 0.22 | 0.29 |
| Targets | 4.11 | 4.57 |
| Yards | 45 | 47 |

The answer is "not much." Tyrell's stats are mostly unchanged by the presence of Mike in the lineup. So, the two can coexist on the football field without a negative impact on Tyrell.
Second, can we expect Mike to take a second-year leap? From 2000 to 2016, only 16 first-round rookie receivers have seen less than 50 targets in their first season. In those players' second year, they went on to average only 43 targets.
While the successes on this list include Reggie Wayne and Demaryius Thomas, the bust list includes recent guys like Kevin White and Laquon Treadwell. Though it was injury-related, Mike's 23 targets are alarming for his future prospects.
Third, who do the coaches prefer to see on the field?
Sure, you could blame it on Mike's injury robbing him of training camp and a consistent stretch of health during the season, but Tyrell's snap count was mostly unaffected by Mike's presence in the lineup. He clearly played ahead of Mike and opposite of Allen in the Chargers' base offense.
Obviously, it's early, but there is already a lot of evidence to suggest that Mike Williams was a poor daft choice by the Chargers. His pre-draft athletic numbers were not impressive nor was his college dominator rating. Tack on his concerning injury history, and it is more than possible that Mike Williams never emerges as a legitimate NFL player.
Tyrell Williams has proved a few things at the NFL level that we can't yet say for Mike -- that he is an effective player, the coaches want to keep him on the field, and he can handle a large workload.
Mike Williams, of course, is the mystery box. But we shouldn't forget that they are similarly sized while Tyrell Williams has a significantly better athletic profile. Basically, Tyrell Williams may very well be Mike Williams' ceiling.
In Conclusion
Currently, per Fantasy Football Calculator's standard-league average draft position data, Tyrell or Mike are afterthoughts in redraft leagues. The recent injury to Henry will likely give each of their stocks a boost, but as of now, Mike Williams is the 62nd wide receiver drafted while Tyrell Williams is going completely undrafted.
Sans Henry, each receiver will fight for those available targets, and while they could end up cannibalizing each other from a fantasy perspective, there are more indicators pointing in favor of Tyrell than Mike. While the Chargers will surely want to see what they have in their first-round receiver, Tyrell doesn't appear to be going anywhere.
Given Tyrell's track record, he appears to be first in line to soak up available targets in the offense. He established a respectable floor in 2017 and could be the biggest beneficiary of Henry's unfortunate season-ending injury.
It'll be a training camp battle to watch, but right now, Tyrell looks like the Williams you want to own.