Is Jimmy Garoppolo Worth Drafting in Fantasy Football in 2019?
Last year was going to be the year of Jimmy Garoppolo.
After his in-season trade to the San Francisco 49ers in 2017, Garoppolo was arguably the best quarterback in the NFL down the stretch that season. While his five-start sample was small, he did post a league-best Passing Net Expected Points (NEP) per drop back (0.35) and the league's best Passing Success Rate (56.45%) in that time.
He was rewarded handsomely, signing a contract that gave him the highest salary-cap hit for any quarterback in 2018. Unfortunately, his 2018 season never got off the ground as a torn ACL in Week 3 ended his year.
With quarterback so deep this season in fantasy football, how should we handle Garoppolo in season-long leagues?
What to Expect
Garoppolo has the benefit of being coached by one of the league's top offensive minds, Kyle Shanahan. Shanahan is regarded as a play-caller who maximizes the talent on his roster, and it has been especially true for his quarterbacks over the years.
Since 2015, the quarterbacks with the most passing yards during the season in Shanahan's offense have all been above league average in Passing NEP per drop back, including Matt Ryan leading the league in this metric during his 2016 MVP season. Even undrafted second-year quarterback Nick Mullens put up 8.31 yards per attempt a year ago, which was the fifth-best rate in the league. So Shanahan's system is friendly for passers.
Jimmy G is entering his second full season in said system ,and the second year in the system was when Ryan had his massive jump in production. Ryan recorded career highs in yards per attempt, touchdowns, touchdown rate, completion percentage and quarterback rating in his second year with Shanahan calling the shots. The question with Garoppolo and the 49ers is if they have the talent in the receiving game to produce results like the Atlanta Falcons did in 2016.
Checking Out His Weapons
The Niners' receiving corps has seen a major overhaul since Garoppolo arrived in 2017. During the time after Garoppolo took over as the starter in that season, fullback Kyle Juszczyk was tied for second on San Fran in targets, which shows how few weapons were available for the 49ers at that time.
Marquise Goodwin was Jimmy G's favorite target that season, and while Goodwin will still be around this season, his role is unlikely to be as the number-one wide receiver. The team is lacking a truly elite receiver -- such as a Julio Jones or a DeAndre Hopkins, a guy who would raise Garoppolo's fantasy ceiling massively. It's up in the air at this point who the team's top receiver is.
Dante Pettis was looking to be the guy at one point during the offseason, but now his exact role is in question given what Shanahan said about Pettis' lack of consistency recently. The most impressive player in San Francisco's offense last year was George Kittle. He had an extreme breakout season, setting the record for receiving yards by a tight end with 1,377. He was also second in the league in yards after the catch, something fairly unheard of for a tight end. His emergence happened after Garoppolo's injury, so it remains to be seen if Kittle will maintain such a high target share as he did with Mullens.
Tevin Coleman signed as a free agent from the Falcons and figures to factor into the passing game. Under Shanahan, Coleman had 31 receptions for 421 yards and 4 touchdowns in 13 games in 2016 while playing behind Devonta Freeman.
The team also used a second-round pick in this year's draft on Deebo Samuel and a third-round pick on Jalen Hurd to fill out their group of receivers. One of them becoming a reliable playmaker will be key to giving the Niners more options to spread the ball around.
Overall, outside of Kittle at tight end, there are several question marks when it comes to the quality of the options around Jimmy G, and it's unclear the true upside that the young receivers have to elevate Jimmy G into being a fantasy quarterback one.
Should You Draft Him?
A poor performance in a nationally televised preseason game sank Garoppolo's average draft position (ADP) all the way down to QB21, per Fantasy Football Calculator's one-quarterback league ADP data.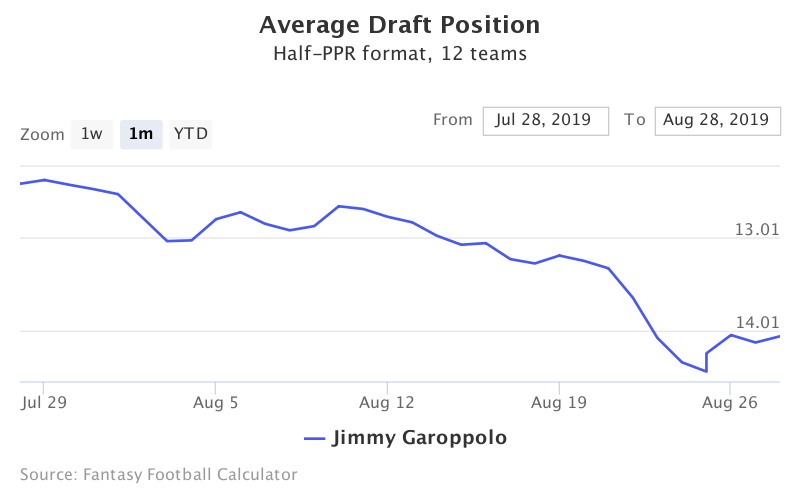 While there are some things that make Garoppolo appealing -- namely Kyle Shanahan's system and the flashes Jimmy G showed at the end of 2017 -- the quarterback position has so many viable options that it's tough to argue Jimmy G he deserves to go much higher than his current price.
His overall ceiling is capped compared to other quarterbacks going between QB11 and QB20 -- guys such as Lamar Jackson, Josh Allen and Dak Prescott -- because Garoppolo won't add much value through running, especially after coming off the torn ACL. And with how viable quarterbacks streaming is in one-quarterbacks leagues, you should be eyeing upside when you draft a signal caller, since you can cut bait and stream if you swing and miss.
According to numberFire's projections, Jimmy G's QB21 price tag is fair, and there is a big drop off in projected fantasy points between Garoppolo and Josh Allen, who is ranked one place above Jimmy G. The nearly 30-point gap in projections is a similar gap as the one between the QB7 (Drew Brees) and the QB19 (Mitchell Trubisky). Based on this, it reduces Garoppolo to only a streaming option in most normal redraft leagues to start the season. In best-ball drafts, he has more value as a second quarterback since you are not able to replace a struggling or injured starter in that format.