​6 Wide Receivers With Great Cornerback Matchups in Week 6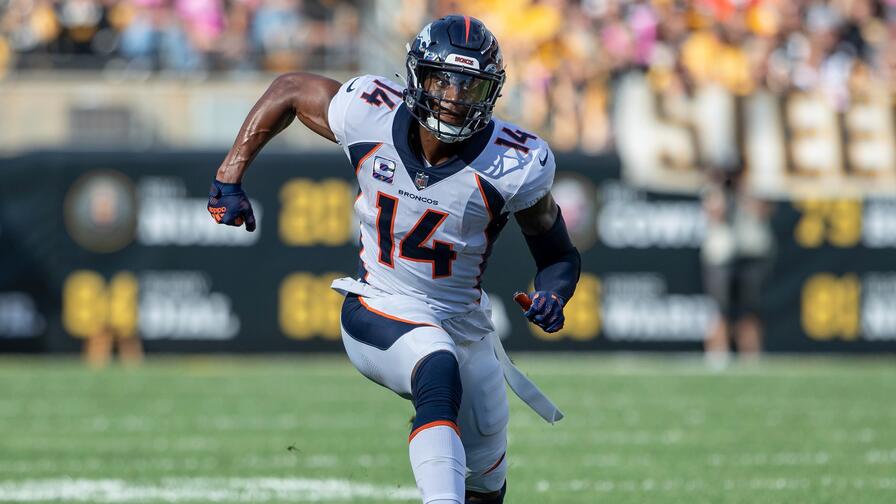 Sometimes, when you're looking at the same information for the hundredth time and it's not clicking, you just need a different perspective on the situation. I've heard from friends that when they're writing and get stumped, it helps them to stand up, do a lap of the house, and let their fingers rest while their minds puzzle through the writer's block. I myself have learned that if I sit upside-down on a couch or chair, that helps me literally get a different angle on what I'm doing. Something about it – blood flow, spinal comfort, maybe laughing at myself – helps me shake things out of stasis and get back on track.
These are physical ways to get different perspectives on something. My goal, however, is to help you find a different perspective on fantasy football. Each week, I hope to offer you information and rationale that confirm your hunches – or stress test them and force you to reconsider your assumptions about certain wide receiver matchups with cornerbacks. My hope is that this zoomed-in angle at least gets you thinking about the minutiae and individual components of what makes a good wide receiver play as we head into Week 6.
Don't flip your lineups upside-down in frustration; which wide receivers have beneficial cornerback matchups in Week 6?
Last Week
One of the things I do is reflect on my process, analyzing the successes and fixing the failures, so that I can give you all the best fantasy football advice possible. Each week, we'll look at the previous one's hits and misses.
I consider 15.0 PPR fantasy points (the weekly fantasy average of the WR24 over the last six years) a hit for Lineup Locks, and a score of 9.0 (the average WR48) a hit for Good Stocks. A player with 7.0 PPR fantasy points (the average WR60) or fewer as a Smoking Crater is a hit as well.
Lineup Locks: Davante Adams and Amari Cooper. Adams (37.6) went out and did Adams things, just as expected. A few of the Packers' best plays of the week were rips down the field or in the tiniest corner of the end zone to Adams, and it's just remarkable how utterly expected that is these days. Despite poor volume the past two weeks, Cooper (15.0) had a yards-per-reception mark of over 20.0 in each game, plus a score. That will help you maintain solid fantasy production.
Good Stocks: Tyler Boyd, Hunter Renfrow, Josh Reynolds, and Marvin Jones. Boyd (6.4) in Week 5 saw just half the targets he did in Week 4, with his yards per reception dropping to 6.0 – his lowest in a game all year. Without a score, there was simply no way he was going to make it as a fantasy starter in this game situation. Another week, another eight-target game for Renfrow (11.6), whose only blemish was not scoring a touchdown for the first time in three games. Reynolds (1.8) ended up with one paltry target, but that was tied for third among wide receivers, so It's still a miss, and a bad one, but it's worth noting that this game script spiraled out of control early. Jones (3.5) was integral to the game plan, but tight end Dan Arnold soaked up the most targets in this blowout loss, which dampened the receivers' outlooks.
Smoking Craters: JuJu Smith-Schuster and Bryan Edwards. Smith-Schuster (0.6) suffered a shoulder injury with about six minutes left in the second quarter, seeing just one target to that point. He was pacing to go under the mark for this category this week even before the injury, so this counts as a hit for us. Edwards (4.2) did see the third-most targets among Raiders' pass-catchers in Week 5 but ended up catching just two passes for 22 yards ­– hit.
Two Lineup Locks
D.J. Moore vs. Bashaud Breeland – Our favorite guy to pick on is back! After getting benched six snaps into his Minnesota Vikings' Week 4 loss, cornerback Bashaud Breeland was back on the field for the full 68 defensive snaps of Week 5. The punitive measure seems to have got him slightly more on track, as Breeland forced an incompletion for the first time since Week 1. Despite allowing an NFL passer rating less than half of his season average in this game, I still like him as a target in Week 5 because of his track record so far this year. Through a third of the season, Breeland is getting targeted on 22% of his coverage snaps (95th percentile among Week 6 starting cornerbacks), allowing a catch on 77% of those targets (78th percentile), and giving up 2.2 yards per coverage snap (94th percentile). When you've put together that kind of resumé, it's hard to assume it will all be fixed after one good game.
Breeland's potential to melt down is just half of what makes this such a great spot for Carolina Panthers wide receiver D.J. Moore. Moore has the distinction of nearly doubling the team target share of the next-highest Panthers pass-catcher to this point in the season, having caught at least five passes in every game this year and averaging 10 targets per game. The peripheral numbers also look outstanding for Carolina's top receiver: Moore has a 26% target per route run rate (90th percentile among Week 6 starting wide receivers), a 71% catch rate (57th percentile), and 2.4 yards per route run (83rd percentile). This is one of the largest mismatches of the week, and Moore should be expected to go off in a big way here.
D.K. Metcalf vs. James Pierre – It just seems like a bad plan to ever fade D.K. Metcalf, even if the Seattle Seahawks quarterback throwing him the ball isn't Russell Wilson. Sure, Geno Smith is a downgrade for the pass-catcher, but Week 5 saw Metcalf still rack up five catches (five targets) for 98 yards and two touchdowns. I'm willing to extend my trust to that situation until proven otherwise, especially when Metcalf has been so good all season. To date, the Seahawks' top receiver holds a 26% target rate (90th percentile), a 66% catch rate (33rd percentile), and 2.6 yards per route run (88th percentile). In addition, his 12.7-yard average depth of target (aDOT) is 25th-highest among the 91 pass-catchers to average five or more targets per game, which would help to explain the lower catch rate. It's not as though Metcalf is getting used nearer to the line for Smith, either; this past week his aDOT was up 3.8 yards from his season average prior (12.3).
The cherry on top for Metcalf is a date with Pittsburgh Steelers cornerback James Pierre, a member of a defense allowing the fourth-most schedule-adjusted fantasy points to wide receivers. Indeed, Pierre himself has allowed a 17% target rate (66th percentile), 64% catch rate (38th percentile), and 1.7 yards per route run (85th percentile). Where Metcalf wins best is in vertical throws – both down the field and in the air – and Pierre has the perfect profile to get torched by the big Seahawk in this upcoming contest. In spite of a quarterback downgrade, Metcalf remains a must-start player.
Four Good Stocks
Courtland Sutton vs. Amik Robertson – A return to action for Denver Broncos quarterback Teddy Bridgewater last week led to good things for wide receiver Courtland Sutton. The team WR1 saw 11 targets (catching 7) and turned those into 120 yards and a score. This week is a divisional showdown with the Las Vegas Raiders and cornerback Amik Robertson, who has a 94th percentile target rate allowed and a 78th percentile catch rate allowed. Sutton – he of a 71st percentile target rate and 80th percentile yards per route run – may end up seeing some tougher coverage from Casey Hayward as well, but the Raiders are in a vulnerable spot, which means this team-leading receiver should put up strong numbers yet again.
Michael Pittman Jr. vs. Desmond King II – The Indianapolis Colts actually look like an offense capable of doing things in the passing game in 2021, which has made wide receiver Michael Pittman Jr. very fantasy-viable. Pittman has four games in a row now with 11 or more half-PPR points, including two with 20 or more. Pittman is solid across the board analytically, with a target rate, catch rate, and yards per route run all north of the 60th percentile, but is simply above-average – none of them are in the 65th percentile or higher. The real sell for this matchup is Houston Texans cornerback Desmond King II, who allows a 66th percentile target rate, an 85th percentile catch rate, and 92nd percentile yards per coverage snap. Pittman should be able to rise above average easily here.
Jaylen Waddle vs. Tre Herndon – Despite some up-and-down production, wide receiver Jaylen Waddle remains one of the most intriguing members of the Miami Dolphins pass-catchers. He has seen an average 53rd percentile target rate and strong 82nd percentile catch rate while working as a speedy catch-and-run option, but he might see better downfield usage now with quarterback Tua Tagovailoa back on the field. This is mostly a juicy matchup, though, as Jacksonville Jaguars corner Tre Herndon allows 95th percentile rates or higher in every category. All Dolphins receivers are in play here.
Van Jefferson vs. Adoree' Jackson – The bye weeks have arrived and that means we're going to have to dig a little deeper to fill out our lineups – and for us writers, these articles. Van Jefferson of the Los Angeles Rams has two games with 15.0 or more fantasy points this season, as well as two games with under 3.0 fantasy points. He's the Rams' field-stretching speed guy, so he's already a boom-or-bust proposition, and this week he faces New York Giants cornerback Adoree' Jackson. Jackson allows a 66th percentile target rate and 59th percentile catch rate. Jefferson's best skill according to the data is his yard-eating ability – 53rd percentile yards per route run – and Jackson presents a slightly above-average matchup for him. In a deep league, this could be a get-right spot for Jefferson, but he's more of a marginal play than others.
Two Smoking Craters
Zach Pascal vs. Tavierre Thomas – It has been a great year for previously marginal receivers in the AFC South: Chester Rogers is doing work, former Tennessee receiver Kalif Raymond has caught on with Detroit, and now Zach Pascal is turning into something as a member of the Colts. The problem for Week 6 is that Pascal has to throw down with Houston corner Tavierre Thomas, who is presenting a real problem for opposing wideouts. Thomas has allowed an 8% rate of targets per coverage snap and just 0.5 yards per coverage snap as well – rates in the 2nd and 7th percentile, respectively. That's not a good sign for the tertiary option Pascal, who is seeing a target on just 14% of his routes run (21st percentile) and earning only 1.1 yards per route run (19th percentile). Don't bet on Pascal being a fantasy-viable option this week.
Terrace Marshall Jr. vs. Mackensie Alexander – The Terrace Marshall Jr. breakout has not yet happened despite plenty of rookie hype and optimism once the Panthers traded away tight end Dan Arnold. The former LSU receiver is spending 87% of his snaps in the slot and is getting overshadowed by the aforementioned Moore and Robby Anderson. Marshall has earned a target on just 14% of his routes run (21st percentile) and is earning just 0.8 yards per route run (7th percentile). The Vikings' Mackensie Alexander might not be the most troublesome cornerback to play against, but he presents an issue for a lower-end wideout like Marshall: Alexander allows 40th percentile or lower marks in both target rate and yards per coverage snap. It's hard to expect less of Marshall than he's shown so far in his rookie season, but this isn't the week to trot him out there despite the good overall matchup with Minnesota.