5 NFL Stats to Know Through Week 13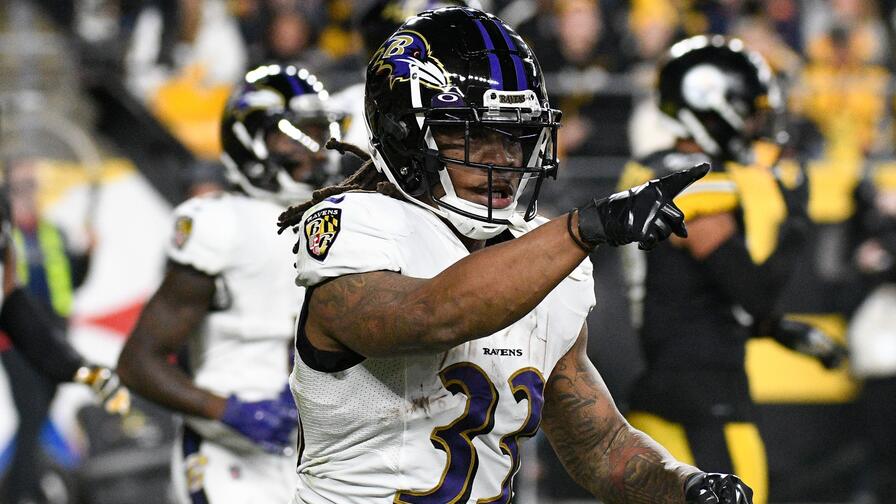 It's crazy to think we're roughly a month away from the conclusion of the fantasy football season. Hopefully, you have at least one team gearing up for a deep playoff run!
Here are five stats to know -- both traditional and our advanced statistics -- through 13 weeks.
Kyler Murray Leads the League in Passing NEP per Drop Back Through 13 Weeks
Kyler Murray finally returned to play his first game since Week 8, and he quickly reminded the fantasy world of his immense ceiling, entering Monday as the overall QB1 of the week, per FantasyPros.
Much of his production came on the ground, as he rushed 10 times for 59 yards and 2 touchdowns, but he was also efficient through the air. While he only attempted 15 passes on a rainy afternoon, he completed 11 for 123 yards and 2 more scores, helping him to a robust 0.51 Passing Net Expected Points (NEP) per drop back -- the second-best mark of the slate.
This latest performance further extends Murray's league lead in Passing NEP per drop back. Among quarterbacks with at least 100 drop backs, Murray's mark of 0.35 Passing NEP per drop back bests the likes of Matthew Stafford (0.30), Kirk Cousins (0.25), and Tom Brady (0.24).
Add that efficiency to his obvious rushing upside, and Murray could be well on his way to delivering his managers some fantasy championships. A potential shootout looms next against the Los Angeles Rams, a game showing a 51.5 total, per FanDuel Sportsbook.
Devonta Freeman Logs a Season-High Snap Rate (68.1%) in Week 13
Baltimore's backfield has seen all sorts of iterations this season, but the one constant was that it was ultimately always a committee.
That finally changed this weekend. This is clearly Devonta Freeman's backfield now.
While Freeman emerged as the lead back coming out of the Ravens' Week 8 bye, he was still sharing the load with Le'Veon Bell in Weeks 9 and 10, and then following Bell's release, it was Latavius Murray stealing away touches in Weeks 11 and 12.
But in Week 13, Murray's snap rate plummeted to 20.3%, leading to Freeman seeing a season-high 68.1% of the snaps. This playing time disparity would result in Freeman besting Murray in both carries (14-2) and targets (8-2) by a wide margin. The eight targets were a season-best for Freeman and were actually good for the second-most on the team behind Mark Andrews.
While the presence of Lamar Jackson will always put a dent in the scoring potential of any Baltimore running back, this boost in snaps is a great sign for Freeman's fantasy outlook for the rest of the season, and his passing usage should keep him involved in negative game scripts, too.
Javonte Williams Leads the Week in Adjusted Opportunities (41.0)
Javonte Williams managers were excited to finally see Williams get a full workload with Melvin Gordon out, and he did not disappoint, logging season-highs in rushes (23), targets (9), and snap rate (79.2%). The end result was 178 yards from scrimmage and a touchdown, leading to him being the overall RB1 in half-PPR formats this week, per FantasyPros.
And speaking of half-PPR formats, targets are effectively twice as valuable as carries in scoring formats like FanDuel, so if we look at Williams' workload through the lens of "adjusted opportunities" (carries plus 2x targets), he was actually tops in the league. His 41 adjusted opportunities were only rivaled by David Montgomery (39) this weekend.
It remains to be seen if Gordon will return in Week 14, but considering he missed practice all of last week, it's entirely possible we get another game with Williams as a workhorse back. It doesn't get much better than a date with the Lions, too. The Broncos are 8.0-point home favorites on FanDuel Sportsbook.
Chris Godwin Logs a 33.3% Target Share After Seeing Just 13.6% the Prior Two Games
The return of Rob Gronkowski put a sizable dent in Chris Godwin's volume in Weeks 11 and 12, but Godwin's usage came roaring back this weekend against Atlanta, with Brady targeting him an absurd 17 times. That was good for a 33.3% target share, nearly 20 percentage points higher than the previous two weeks (13.6%). Godwin would finish with 15 receptions for 143 yards.
With the talent on this team, some inconsistency is unfortunately inevitable when you have Godwin, Gronk, Mike Evans, and Leonard Fournette all vying for targets, but it was still good to see Godwin's role rebound in such a big way.
The good news for Godwin managers is that the suspension of Antonio Brown at least eliminates one more mouth to feed in the short term -- and perhaps even longer.
Additionally, being tied to Brady -- who leads the league in pass attempts -- can sometimes provide enough raw volume for all of Tampa Bay's main weapons to find fantasy success at the same time. This past weekend, Brady chucked it 51 times, helping all four of the aforementioned players to reach double-digit points in half-PPR leagues.
A tough matchup against Buffalo comes next, but FanDuel Sportsbook has the game pegged for a 52.5 total, so Brady should be racking up the pass attempts yet again this week.
James O'Shaughnessy Leads all Jaguars Pass-Catchers in Targets (6)
James O'Shaughnessy paced the Jacksonville Jaguars with six targets (21.4%), but with this being the Jacksonville -- where fantasy upside goes to die -- it amounted to a laughable 2 catches for 13 yards.
Still, with Dan Arnold going down early in Week 12, O'Shaughnessy's now seen 11 targets over the past two games with a 74.6% snap rate and 75.3% route rate, which is at least something we can latch onto.
I wouldn't expect any miracles, but it looks like he's pretty much inherited Arnold's role, so with four teams on bye this week, he's someone to consider if you're desperate in deep formats.