Sunday Night Football Betting: Can Jimmy G Keep the Momentum Going?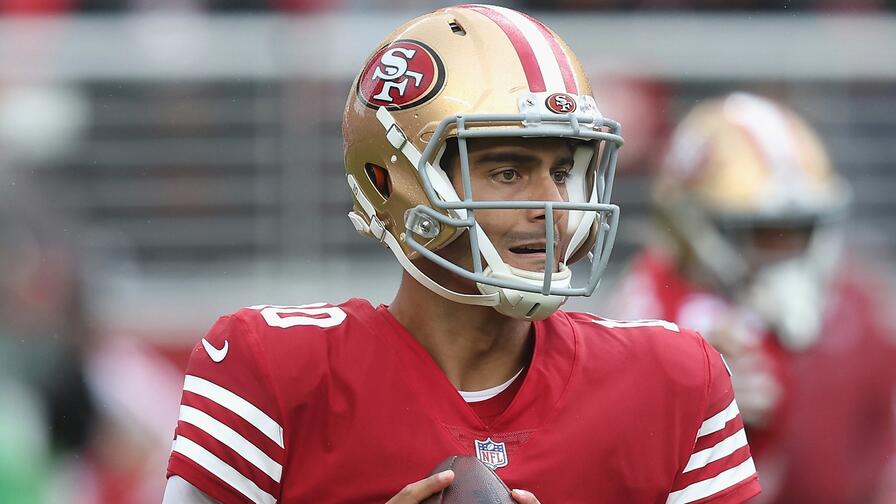 It may be a bit of a unique path to get here, but the San Francisco 49ers and Denver Broncos will square off in Denver tonight and both teams sit at 1-1 on the young 2022 season.
Our nERD-based rankings show that the Sunday Night Football contest could be a doozy -- we rank the road 49ers at fifth with the Broncos checking in just one slot behind them.
Let's dive into some interesting betting angles for this contest.
Game Preview and Key Matchups
I am not exactly sure that passing will be the strength of this game tonight.
After starting signal-caller Trey Lance suffered a devastating season-long ankle injury, the much maligned Jimmy Garoppolo has stepped back into a starting role for the 49ers as their quarterback. Shopped around nearly the entire offseason, the 49ers have to consider their quarterback insurance a stroke of luck now that they have a starter-ready player at the helm. Garoppolo was pretty efficient in his Week 2 relief performance, logging a Passing Net Expected Points (NEP) per drop back of 0.23 over 22 drop backs on the year. He also logged a Passing Success Rate of 50% last week.
While everyone hopes that Russell Wilson is going to start cooking at some point, 2022 has been solid so far for the new Denver QB. He's logged just a slightly less efficient mark of 0.21 Passing NEP per pass this year, and he sports a slightly lower 43.59% Passing Success Rate on the year.
So, what can we expect from the running backs?
Not only has San Francisco had to deal with an injury at the quarterback spot, starting running back Elijah Mitchell presently consumes a spot on the Injured Reserve following an injury in Week One. That means Jeff Wilson has been thrust into a starting role, and he's logged a mediocre -0.02 Rushing NEP per carry mark on the year. Javonte Williams of Denver hasn't been much better, sporting a per carry mark of -0.07, although he has played a greater role in the passing game over Wilson with 11 receptions on the season.
With the offenses sitting in the middle of the pack via our per-play metrics (Denver 13th, San Francisco 16th), the defenses have carried these squads, both clocking in as top five units (San Francisco 4th, Denver 5th).
Bets to Consider
The road 49ers opened as 3.0-point underdogs, and they now sit as 1.5-point favorites, with the total sitting at 44.5 points.
We are projecting a narrow 24.0-23.9 win for San Francisco, and we give the 49ers a 48.9% chance to cover the spread.
On the total, we have a heavy lean on the over as we project it to win out 58.9% of the time. A 44.5-point over/under isn't exactly the lofties of totals to be concerned with.
Comparing player prop lines to our projections, betting the over on Russell Wilson passing yards seems like a strong bet.
We project him for just shy of 257 yards, but the line sits at a tidy 233.5 yards. While the Broncos do like to lean on their ground game to salt things away, as they rushed the 31 times a week ago, a negative game script as indicated by the Vegas line could make Wilson passing props pretty spicy. Wilson logged 340 passing yards in Week 1 against the Seahawks, and he could be in line for another big passing day again.
Historic Betting Trends
-- San Francisco has been a great ATS bet. In their last seven contests, they are 6-1.
-- The bright lights have not been kind to the Broncos. They are 1-9 in their last 10 games.
-- While there's a new regime in town, Denver has to play better in general. Over their last 18 games as a home favorite, they are only 5-12-1, and bettors have swung this line to reflect that.