You Should Be Worried About Thomas Rawls in Fantasy Football This Year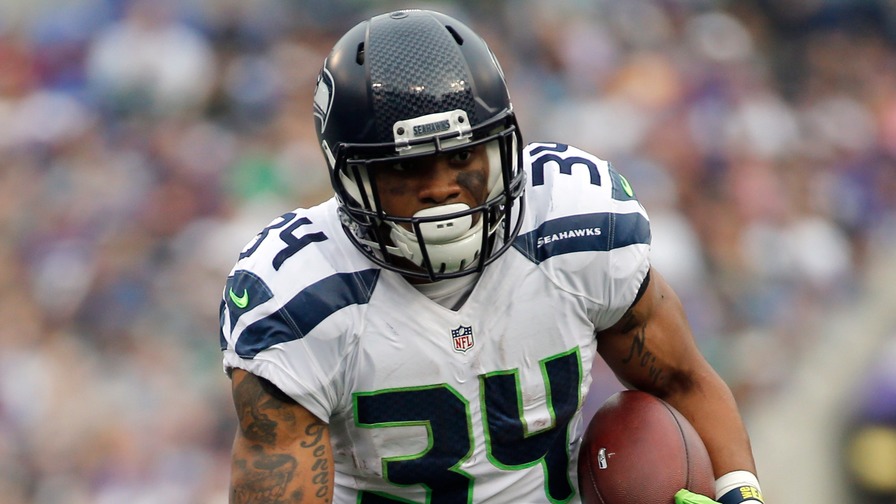 Thomas Rawls was really good at football in his rookie season for the Seattle Seahawks. He received his first chance to shine after Marshawn Lynch sustained his first injury of the season, and Rawls took the chance and (literally) ran away with it.
No matter what you look at, Rawls was one of the best running backs in the NFL last season.
He carried the ball 147 times for 830 yards and 4 touchdowns, adding another touchdown via the pass. Projecting his statistics from his six starts over a full season isn't a realistic exercise, but simply to illustrate how good he was, he would have totaled 336 carries for 1,899 yards (5.6 yards per carry), and 11 touchdowns.
Rawls was also far above the league average in terms of advanced analytics. His Rushing Net Expected Points (NEP) per carry score of 0.08 outpaced the league average of -0.01 as well as Marshawn Lynch's -0.05. Rawls owned a Rushing Success Rate of 45.58%, the percentage of carries that led to positive expected points for his team, above the league average of 41.87% and Lynch's 41.44%.
It's clear that he can play.
But after heaping effusive praise on the talented back, it's time to address the number of enormous red flags surrounding Rawls' sophomore season.
His Ankle Injury
The most troublesome problem for Rawls this upcoming season is his recovery from a broken ankle and torn ligaments.
Rawls suffered a gruesome injury in the 2015 playoff push, fracturing his ankle in a Week 14 game against the Baltimore Ravens. He has been slow to recover from this injury, even lagging behind Jimmy Graham (which should be noted because patellar tendon injuries are among the hardest to return from in football).
While it isn't unheard of to return from a broken ankle without issue -- Ricky Williams was able to play 16 games in 2001 after breaking his ankle the previous year and saw no drop-off in production -- it is a concern when the athlete has yet to resume running.
At the time of the injury, it was said that he would not require surgery and that this injury would have no long-term ramifications. Seven months after the injury, Rawls is still unable to run, and this is really troublesome.
I'm not a doctor, but I do know that if he isn't cleared to run, he won't be available for offseason activities, allowing the other running backs on the roster to close the gap.
And that could be what really hurts Rawls.
C.J. Prosise Is Incredibly Talented
One of those other running backs on the roster is third-round rookie C.J. Prosise. Jason Schandl profiled Prosise, suggesting that Prosise offers dynamic play-making ability on third downs and can contribute right away.
Head coach Pete Carroll stated that he has big plans for Prosise, who has been limited by a hip flexor injury in OTAs. Prosise's expected impact will come via catching the ball out of the backfield, the one area we should have already expected Rawls to struggle with.
He didn't have a massive impact catching the football last season, but he showed that he was competent with a league average Reception NEP per target of 0.36.
If Prosise is stealing most of the third-down work from a healthy Rawls, it puts a damper on the potential upside of Rawls, especially in PPR leagues. Matt Franciscovich discussed Prosise's high floor because of his receiving ability earlier this month, and as Prosise continues to impress, it's entirely possible that he starts stealing some of Rawls' presumed early-down carries.
Schandl also noted that PlayerProfiler considers Prosise's closest comparable Ryan Mathews, which is exciting because the only knock on Mathews throughout his career has been his health, not his production. He's far more athletic than the undrafted Rawls, and it shouldn't shock anyone to see him steal carries away from Rawls -- Rotoworld's Graham Barfield's Yards Created project revealed that Prosise created the second-most yards per attempt in the draft class, trailing just Ezekiel Elliott.
Also, it's important to note that the Seahawks have invested much more into Prosise (and his respective development) than they have into any other runner on their roster. Their crowded depth chart includes Thomas Rawls, C.J. Prosise, Christine Michael, Alex Collins, and Zac Brooks.
2015 showed us that a healthy Thomas Rawls is one of the more efficient and effective running backs in the NFL. Discounting his injury, it's easy to see why people like him as an early-down hammer in Seattle. However, it would be foolish to write off an injury of this severity.
Draft Cost
The fact that Rawls didn't see a precipitous decline in ADP (per Rotoviz) following the NFL Draft is because people are already concerned about his ankle.
If this continues, he may reach a point where he becomes a great value worth gambling on the massive upside.
According to FantasyPros, Rawls is currently coming off the board as the 13th running back in both standard and PPR leagues. This means he's being drafted as a fringe RB1 and a high-end RB2. If he ends up being completely healthy, it would be acceptable to feel comfortable with Rawls in that spot in standard leagues.
However, recent reports claim that Rawls should be ready for Week 1 and may not play in the preseason, but if Rawls sits out the preseason, they may not feature him early in the season as a way of reducing his workload and keeping him healthy. If he isn't 100 percent by the preseason, I'm not particularly interested in drafting a timeshare back in the first three or four rounds.
The Seahawks have been intentionally vague with Rawls' recovery process, refusing to let any information slip about his progress. Along the way, they drafted three running backs, one of whom is capable of playing all three downs.
Assuming his health checks out, it's predictable to foresee Rawls staying in the early-down role that he took over following Lynch's injury, with Prosise filling the old Fred Jackson role. Rawls isn't a pick for the risk-averse fantasy owner this year, but he does possess massive upside if he's healthy.
That's a big "if," and we should pump the brakes until he is.